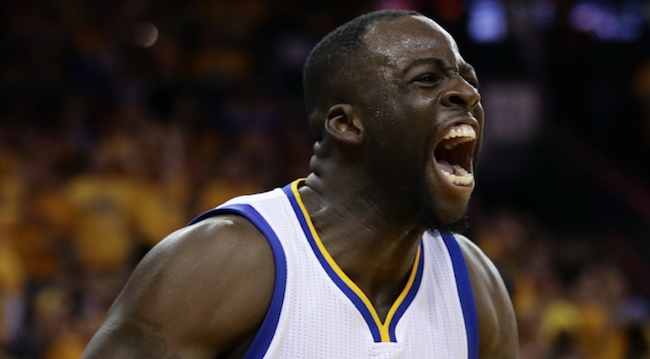 On Sunday afternoon, news broke that Draymond Green will be suspended for Game 5 of the NBA Finals due to the infamous altercation between him and LeBron James in Game 4.
With a 3-1 advantage, the Warriors still have a chance to clinch their second straight championship on the home floor; although, doing it without Green's services will be a lot more difficult. However, if they do win it all, their All-Star forward wont 't allowed to participate in the post-game revelry — at least not at first.
That's right, per the NBA's rules, Green isn't even allowed inside of Oracle Arena during the game. Should the Warriors get the Larry O'Brien trophy despite his absence, the league will apparently let him back inside. By the time he gets there, though, he will assuredly have missed at least the first few sprays of bubbly.
Green will no doubt be very close by so that if the Warriors win, he can get inside ASAP.
It seems a little silly to not even let a guy sit on the bench when he's suspended, especially when his team could clinch a title in that game. But the NBA isn't going to change the rules in time for Game 5, so Green will have to be fashionably late to the party should Golden State win. Hopefully he's wearing his goggles.