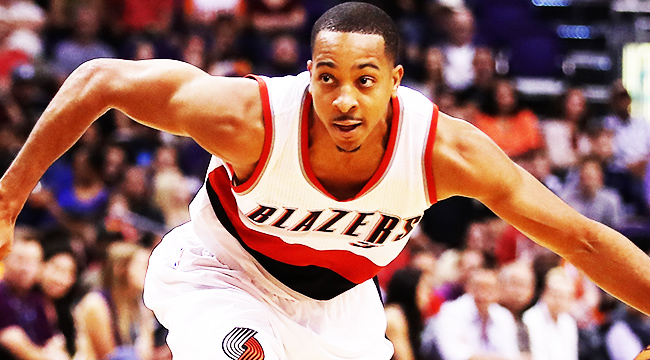 Heading into his sixth season, C.J. McCollum is firmly in his prime. He and Damian Lillard comprise one of the deadliest backcourt duos in the NBA, and McCollum is arguably among the best and most creative scorers in the league at his position.
But McCollum's interests have always extended beyond the court, as well. Before entering the 2013 draft, he played all four years at Lehigh University, where he graduated with a B.A. in journalism. And McCollum has continued to nurture his love for journalism over the years, writing articles for various media outlets like the Players' Tribune, making broadcast appearances on all the major sports networks, and even landing a coveted interview with league commissioner Adam Silver.
McCollum is also mentoring aspiring young journalists. Through his initiative, "C.J.'s Press Pass," high school students interested in studying journalism can receive media credentials to home games and other events, along with mentorship opportunities with local media professionals. In 2016, he opened The C.J. McCollum Dream Center at a local Boys and Girls Club, which is an interactive multi-media learning room that offers access to computers, broadcast equipment, and introductory classes on various aspects of the industry.
We caught up with McCollum at the ribbon-cutting ceremony for the new center in Portland this week, where he was on hand to interact with local youth and tape a live episode of his popular podcast, "Pull Up," with co-host Jordan Schultz and surprise guest Damian Lillard, who made an unscheduled appearance to join the conversation and hang out with the youth who were in attendance.
McCollum spoke to us about how he first got interested in journalism as a potential career, what the newest Dream Center means to him, and how he feels about the Blazers roster heading into the coming season.
What would a center like this have meant to you as a youngster who was interested in journalism growing up? How much of an impact do you think it would have had to have access to these types of tools and resources early on?
It would have a huge impact. I think just being able to learn how to use certain equipment. Learning how to utilize green screen. Learning how to use utilize Adobe early on at an early age would've been very, very beneficial. Figuring out what a podcast was. That wasn't even around back when I was growing up as a kid. Just having those tools available. Guest speakers, introductions to your career path was just something I would've been thankful to have, but I'm glad I can provide it for the kids.


For young students who are interested in journalism, it's kind of an interesting take to be able to see a live podcast taping in terms of understanding how this field has evolved. What kind of advice would you have for them for finding the balance between newer media like this and like social media, and more traditional forms of media like print and broadcast and the like?
You just gotta find your niche. Certain things interest certain people. Figure out what you're interested in, what you like. It will all be crucial for your future development and how you turn out as journalist or whatever the case will be. But podcasting, for me, is fun. It's easy for me. I enjoy it. It might not be easy and fun for somebody else. So just figure out what you like. It's very crucial you develop it. And I think having this space, having the [other] space at the Boys and Girls Club on MLK Boulevard, allows them to be able to experiment and to explore. Figure out what you like, what you don't like and then you pursue it.
What first got you interested in journalism?
I just always watched SportsCenter, ESPN. I was always interested in how they produce stories. How they post content. How articles are written. And I think being in the newspaper as a kid when you're playing basketball, and just seeing your name in the newspaper, it brought excitement. And I always really enjoyed that process. Then I learned more about it as I got through high school and college. And I thought, you know, it might be cool to be able to talk about sports, break certain news to the public. And just have that outlet to where I control what content I want to go out. How it goes out. And how I have my own podcast.
You have your own podcast, you've written articles, you've even landed a huge interview with NBA commissioner Adam Silver. Where do you see yourself as a journalist after you retire from basketball?
I think just messing around in different fields is the biggest thing for me. Figuring out how I like writing. How I like broadcast. How I like producing. I've been behind the camera. So just being able to get a glimpse of all facets of journalism has been extremely important and invaluable to me and my future because now I'm able to be in a position where I can do anything. I produce content, push out content in all phases, whether that be writing, recording, audio, so I'm in a good spot.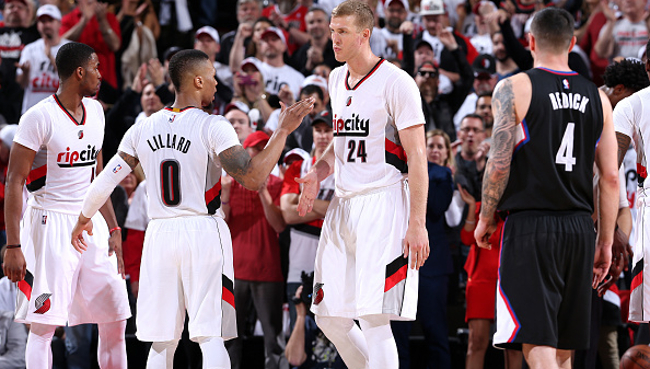 A couple basketball questions. Four Blazers, including yourself, made the Sports Illustrated top 100 players list that came out last week. What did that mean to you for you and your teammates to be represented on that list? Some players tend to have some feelings about where they rank and things like that…
I think it's a cool honor just to be mentioned, just to be mentioned in that conversation. It shows how far I've come as a 5'7 sophomore, 115 pounds in high school. To be mentioned as a top player in the NBA is a great honor. But a lot of work still to be done. And continue to get better. Continue to figure out ways to improve and help the team win is my main focus whether my peers or whether the media thinks I'm 30th best or 150th best. I have to go perform and represent my name and my legacy to the best of my abilities.
In terms of the team, you guys had a little bit of an overhaul this summer, losing a couple of key rotation players in Ed Davis, Pat Connaughton, and Shabazz Napier. But you also brought back Jusuf Nurkic on a long-term deal. How do you feel about where the roster is heading into the season?
I think we're heading in the right direction. We got a lot of veteran players who have played, been in the playoffs. We have that continuity, that chemistry, and obviously we never wanna lose players, so all our best to Shabazz. Good guy. Good player. And Ed Davis. Pat is one of my good friends as well. So you never wanna see that happen, but I wish them the best going forward. I hope they have productive careers and extend their careers as long as possible. For us, individually, we gotta figure out ways to help the team.