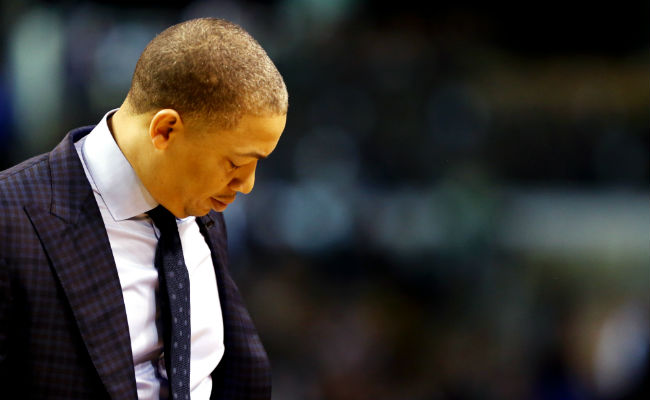 The Boston Celtics won Game 1 of the Eastern Conference Finals in blowout fashion on Sunday afternoon. It was a game that didn't spark any real memorable moments, possibly because Boston's defense essentially smothered the Cavaliers and forced them into bad shots and playing from behind all game.
It didn't help that Cavaliers head coach Tyronn Lue insisted on playing his worst rotation in a crucial moment of the game, leaving little for a resting LeBron James to return to in the fourth quarter. But Game 1 is Game 1, and as James says it is a series, not March Madness. That means a chance to switch things up, which it appears the Cavaliers will do it Game 2.
Lue spoke to reporters on Monday after the blowout Game 1 loss and said changes would likely be coming to the starting lineup when the series picks back up on Tuesday night.
https://twitter.com/mcten/status/996059602457374721
Adding Thompson back into the mix more consistently could be a boost on both ends of the floor, and according to the Boston Globe, Lue said he was waiting for things to officially break before making a change.
"We weren't going to adjust until someone beat us," Lue said. "And we had played well with that lineup and it got us to this point so, yes, we have to weigh that decision."
With all this talk about stoppers in the early motions of the series, even Lue had a chance to have some fun with the concept in regards to Horford and Thompson.
"Looking at the statistics, over the last three years of at least 30 possessions, out of all the guys who've guarded Al Horford, Tristan is No. 1 in the league defending Al Horford," Lue said, smiling cheekily. "So that's a good thing to know."
It sounds like things are pretty light in Cavaliers camp despite the disappointing start to the series. We'll see if things stay that way if they struggle again on Tuesday night, though.