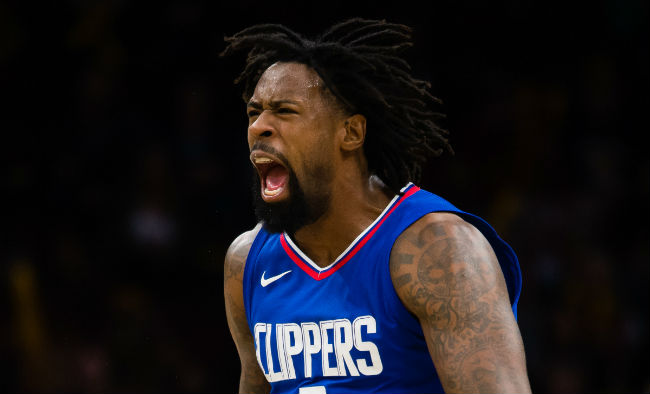 As society is traveling at warp speed towards being as weird as humanly possible in the future, the strangest thing in NBA history continues to be something that occurred several years in the past. I am talking, of course, about the time the Los Angeles Clippers more or less held DeAndre Jordan hostage in his own home to convince him to re-sign with the team in 2015. This happened after Jordan had agreed to a verbal deal with the Dallas Mavericks, and there were even reports that Mark Cuban was driving around Jordan's hometown of Houston frantically trying to call him to figure out what was going on. There were lots of emojis. It was weird!
Now, let's fast forward to this summer. Jordan has the flexibility to opt out of his contract and become an unrestricted free agent. And wouldn't you know it, the Mavericks have the money to be a factor in free agency and have a big ol' hole at center.
All of this begs the question: Would Cuban and the Mavs be willing to get past the absurd saga of 2015 and bring Jordan on board if he'd be up for playing in Dallas? According to Mike Fisher of 247Sports, they would "forgive" the veteran big man to bring him on board.
Forgive him from his virtually unprecedented 2015 betrayal of the Mavs. Forgive him for shattering the NBA's established status of free-agent agreements. Forgive him for meekly allowing himself to hide behind a barricaded door while opting to remain with the Los Angeles Clippers.

Consider it done. The Mavs have, a source tells me, decided to let bygones bygones. And why? Well, they do need a center.
There's plenty that would need to happen to get to the point where Jordan is a Maverick — he'd either need to opt out of his deal and agree to a contract with them or opt into the final year of his deal and get traded. But either way, Dallas appears to be at a point where it's ready to move past the weirdest night in recent NBA history (yes, even weirder than anything that involved the Colangelo family's love of posting) to land Jordan … if, of course, he's interested.