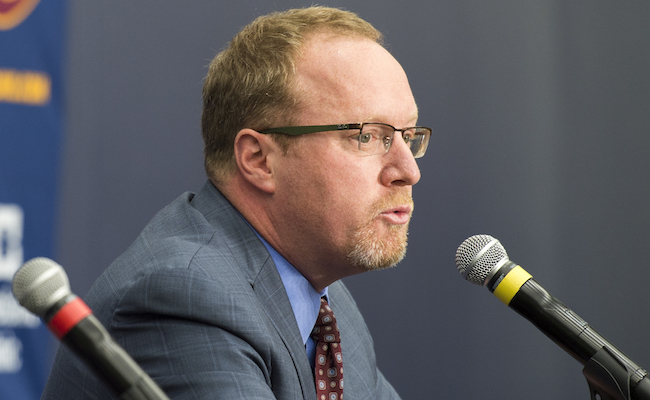 The 2018-2019 NBA season begins later this month and, at the moment, the Philadelphia 76ers still do not have a full-time general manager. At this point in the offseason, the heavy lifting has been done and that might lessen the dire need to make a move immediately but, in the same breath, the Sixers are on the short list of teams with the talent to reach the NBA Finals out of the Eastern Conference, making the continued opening rather bizarre.
In recent days, rumblings have suggested that the Sixers may not hire a general manager this season but, on Thursday, Keith Pompey of the Philadelphia Inquirer reported that the team will formally interview a group of internal candidates, headlined by former All-Star Elton Brand, for the position. Still, a more intriguing name was reportedly in the mix at one point, but Pompey brings word that the Sixers didn't believe former Cavaliers general manager David Griffin was a good fit for the opening in Philadelphia.

It seems bizarre that the Sixers, who reportedly pursued Rockets executive Daryl Morey during the process, would be the side balking at a chance to partner with Griffin. After all, he is arguably the biggest name available on the open market among executives and Griffin would have brought some extra cache to the table when courting free agents.
On the other hand, the organization's reported desire to "make collaborative decisions" would certainly lean away from a powerful general manager and Griffin has earned the right to join a situation in which he would wield full power if he wants. Beyond that, the Sixers might have real trouble luring a "win the press conference" name if this tact is used in the future, and that could lead to the hiring of an internal candidate to lead a situation in which many voices were in the mix.
The Sixers would present a wildly intriguing situation for many top executives but, in the end, the job remains open and the eventual hire may not be an inspiring one, at least from an outsider's perspective.