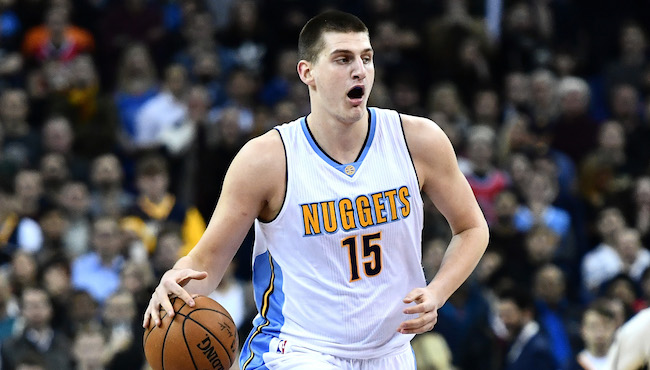 2016-17 Record: 40-42 (9th in West)
Players Added: Torrey Craig (FA), Tyler Lydon (Draft), Trey Lyles (Trade with UTA), Paul Millsap (FA), Monte Morris (Draft)
Players Lost: Danilo Gallinari (Trade with LAC), Roy Hibbert (FA), Mike Miller (FA)
Projected Team MVP: Nikola Jokic
The internet is sharply divided on Jokic and it is easy to see why. On one hand, the 22-year-old center almost single-handedly transformed Denver's offense into an unstoppable force in the second half of 2016-2017 and, individually, Jokic put up 21.6 points, 12.7 rebounds and 6.3 assists per 36 minutes over the course of his second NBA season. In contrast, Jokic appeared on the floor for only 27.8 minutes per game, has real defensive concerns and doesn't necessarily fit the mold of a typical high-upside big man at this level.
What we do know, however, is that Jokic is very good at basketball.
Can he take the next step and replicate his uber-efficient production for 30-plus minutes per game? That is the big question. The defensive worries will always be present until he proves otherwise but, because Jokic's offensive game is out of this world, that end becomes (slightly) less concerning. The addition of Paul Millsap, a legitimate top-30 player and elite defensive force, will certainly help take some of the pressure off the young center but, in the end, Denver's success will be judged against Jokic's individual play and the heat is on as a result of high expectations.

Team X-Factor: Jamal Murray
As a 19-year-old rookie, Murray acquitted himself quite well for the Nuggets. He appeared in all 82 games while providing reasonably solid production (at least within the context of a rookie guard) and Murray flashed the considerable talent that made him an appealing pick in the top 10 of the 2016 NBA Draft.
This season, however, will bring a new set of challenges for the former Kentucky standout. Namely, many believe Murray will become (or even begin the season as) Denver's primary option at point guard and there is real uncertainty with that assignment.
The Nuggets struggled mightily at the position a season ago, with Emmanuel Mudiay languishing in relative obscurity and Jameer Nelson providing nothing in the way of spectacular play. In Murray, Denver has a (much) more talented option but he isn't a superb athlete and Murray hasn't functioned as pure facilitator in the past. Throw in the defensive woes that have been evident and the Nuggets are taking a considerable risk.
It certainly helps that Jokic can operate as the centerpiece of the offense and players like Gary Harris and Paul Millsap can aid defensively. Still, this season could swing on the back of Jamal Murray and that is scary given his age.

Best Case Scenario:
Jokic entered the starting lineup on Dec. 15 and, from that point forward, the Nuggets had the best offense in an NBA that still includes the Golden State Warriors. That is tremendously impressive. With that said, Denver's net rating was "only" 11th in the league over that time period, chiefly because the defense struggled mightily.
That was the impetus for signing Paul Millsap at a $30 million per year clip and, if that combination in the frontcourt works to perfection, the sky is the limit here. If you squint hard enough, the addition of a top-flight defender in Millsap (who can still be effective offensively) could facilitate a league-average defense and, if that happens, Denver's tremendous offensive potential can really be unleashed.
Is there a scenario in which Denver wins 50 games, even in the loaded West? I think so.
Worst Case Scenario:
What if Millsap struggles given that his offensive efficiency has dipped in three successive seasons? What if Murray isn't ready for prime time as a "pure" point guard? What if the loss of Danilo Gallinari shifts this offense from a real juggernaut to simply an above-average unit?
There are real questions here and, if they all go the wrong way, it could be a repeat of last season's 9th-place finish. The Nuggets are certainly better on paper in adding Millsap and projecting some growth from the young players. Still, improvement isn't always linear and Jokic was so good a year ago that it wouldn't be a complete shock if he (slightly) regressed under the weight of a larger workload.
If that happens and Millsap isn't quite the same, All-Star player we saw in Atlanta, the Nuggets won't be a mess and that matters. The West is unforgiving, though, and 43-44 wins isn't enough to ensure a playoff berth.