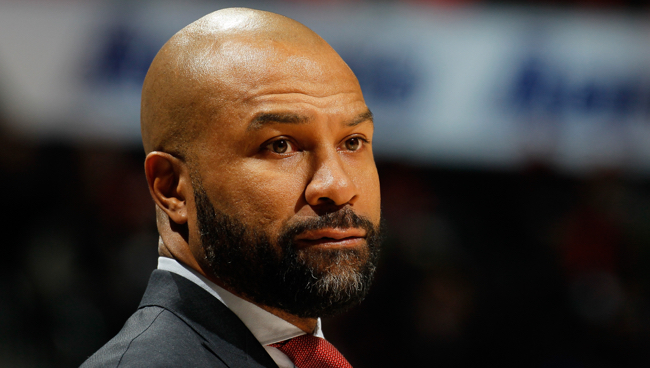 News came across the wire Monday morning that the New York Knicks fired head coach Derek Fisher after a 23-31 start to the season. Kurt Rambis will be the interim head coach.
Because the internet is a ruthless place, there were instantly a bunch of jokes and/or cheeky comments at the news:
(The answer is no, by the way. Not yet. But give it time.)
And then there's the whole situation with Fisher and Matt Barnes, which, well, might get a lot more interesting now that Fisher isn't part of the league anymore.
But that's all anecdotal, and there are the reactions that merit more than a quick laugh. The reality is the Knicks, despite being under .500, were only five games behind in the playoff race and already surpassed their win total from last year (17) halfway through the season. When painted in that context, letting Fisher go could come across as a bit foolhardy.
Regardless, the move has been made and the Knicks feel they can do better — and maybe they can. Per multiple reports, Golden State assistant Luke Walton is the top target.
Walton did an unbelievable job filling in for Steve Kerr, who dealt with complications from an offseason back surgery, over the past few months. In essence, Walton auditioned for a head coaching job risk-free, even if the team he coached was far and away the best in the league.
Then there's the Brian Shaw scenario, which some are accurately predicting might be a bad fit.
There's plenty more where are all those prognostications came from.
Some people were overt about wanting the job (as they are about anything that might get their name in the news).
Some people just like played the "got 'em" game on Twitter, which is pretty easy these days because no one can keep their opinion to themselves.