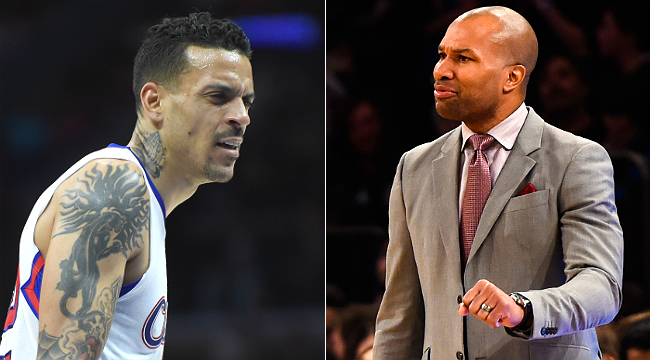 The Memphis Grizzlies are preparing for another long 82-game season of grit and grind basketball by holding their training camp in Santa Barbara, Calif. During the offseason, they brought in Matt Barnes to provide a little outside shooting while preserving the Grizzly ethos. (Barnes was all about that grit n' grind life before the moniker was ever bestowed on the Grizz.)
On Saturday afternoon, Barnes' gritty demeanor was on full display in an off-court incident with Knicks head coach Derek Fisher. The New York Post reports Barnes found out that Fisher was romancing his ex-wife, Gloria Govan, at their former home in Los Angeles.
Barnes responded as only Matt Barnes can:
But when Barnes learned that Fisher was at his former home with Gloria, he drove 95 miles to LA to "beat the s–t" out of Fisher, sources said.

"Derek was in Gloria's back yard with about 10 people having a bonfire on ​​Saturday," said a source. "Derek's separated from his wife and there's a relationship with [Gloria]."

The source added, "Barnes was in Santa Barbara [at Memphis Grizzlies training camp] and heard that Fisher was in his house. He went crazy. He got in his car and went to the house and went after Fisher."

Another source said, "Someone told Matt that Fisher was at the house and he drove down there — he went over to confront Derek."

​A source close to Fisher ​confirmed the fight but said, "Matt came after Derek but he only had a few scratches … Derek's not going to press charges, he's going to let it go."
NBA security is currently looking into the incident between the former Laker teammates, and sources tell Shams Charmania at Yahoo Sports that Barnes had known about Fisher and his estranged wife for "over a month."
This kind of behavior isn't atypical for Barnes. He spent the entire summer trading verbal jabs with Serge Ibaka about throwing down, but — so far — nothing has actually happened. He also got into a war of words with Rihanna about their relationship, or lack thereof. If there's ever a situation with a disgruntled woman or throwing down with someone in a bare knuckle test of machismo, Barnes is probably involved.
Barnes and Fisher are plenty familiar with one another due to their stint together on the Los Angeles Lakers. Th first meeting between Knicks and Grizzlies this season won't be until Jan. 16, but Barnes' penchant for jawing with opponents will likely be on full display that evening.
Fisher isn't commenting on the story so far, but he has spoken to the team.