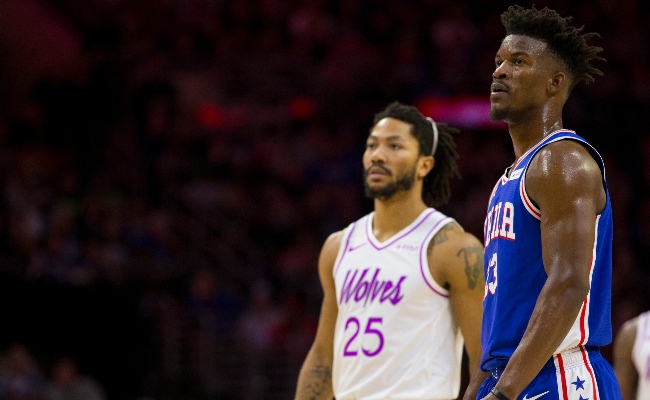 While Jimmy Butler finished the season as a member of the Philadelphia 76ers, he only joined the team due to a messy breakup between himself and the Minnesota Timberwolves. Much has been made of why Butler wanted out of Minnesota, and in an upcoming book, one of his former teammates explained what went down.
Derrick Rose has a new book coming out later this year titled I'll Show You, which Michael Rand of the Star Tribune read and got the chance to sum up in a piece on Wednesday. In the book, the veteran guard wrote about how he helped Butler navigate the situation. Rose also assigned blame for why all of this went down, believing the NBA was at fault for Butler's dismay.
"Look, it wasn't his fault," Rose wrote of Butler's situation and trade request. "It's the league's fault. Nothing against Karl-Anthony Towns, he's cool — and he's good. But you get these kids and you spoil them before they achieve something."

One page later, Rose adds: "Jimmy was feeling, 'Why'd y'all pay them first and I was the one that got you to the playoffs?' That's all it was. Jimmy wasn't doing it right, though he was right."

Towns and the Timberwolves agreed to a five-year, $190 million contract extension last September, while Butler entered the season making a hair under $18.7 million with the opportunity to become an unrestricted free agent on July 1, 2019. Butler did, admittedly, help get the Timberwolves over the hump to break their postseason drought during the 2017-18 campaign, and he's also made it clear that he wants to get paid big money as a free agent.
While Butler did turn down a contract offer from the Wolves last year, it was a 4-year, $110 million (or so) extension that would have given him less money and job security than, presumably, waiting until this summer. There were also rumblings that Butler wanted to renegotiate his contract with the Timberwolves, which the team balked at.
Butler eventually got traded to a situation where he, it appears, is on track to get paid a ton of money, while Minnesota replaced him with a pair of solid wings that fit well next to Towns. Still, one can't help but wonder what would have happened with the Timberwolves if the franchise paid their ex-star.