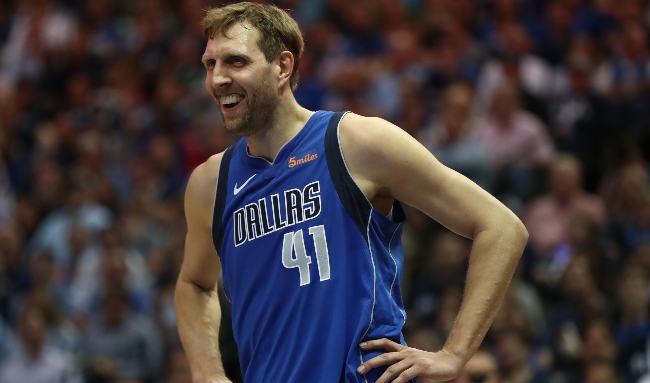 Future Hall of Fame inductees Dwyane Wade and Dirk Nowitzki both decided to call it quits at the end of this season, closing the book on two of the league's most illustrious careers of the last two decades, which have incidentally intersected with one another in major ways over the years.
Now, the elder statesmen are free to enjoy the next stage of life in whatever way they see fit, although "fit" might not be the optimal word here. For at least one of them, that will no longer include a slavish devotion to the strictly-regimented nutritional routines required to maintain an NBA physique.
In an appearance on a Dallas sports talk radio program this week, Dirk admitted that he's been a little overindulgent since the season ended, treating himself to a daily dose of ice cream and avoiding the gym altogether.

Via Ben & Skin of 105.3 The Fan:
"I've had ice cream almost every day, I've tried some suits on and they don't fit," Nowitzki said. "I'm probably about 15 pounds [heavier] plus."
We didn't realize you had to be retired to do that. Don't mind us; we'll just be over here planning on our retirement parties, which will feature plenty of ice cream.
Dirk went on to say that's he's relieved to have his basketball days behind and that he was suffering significant pain toward the end as age and injuries were taking their inevitable toll. He's certainly earned a little ice cream, and we can't wait to see what he has in store for us next as he figures out life after basketball.
(Via 105.3 The Fan)