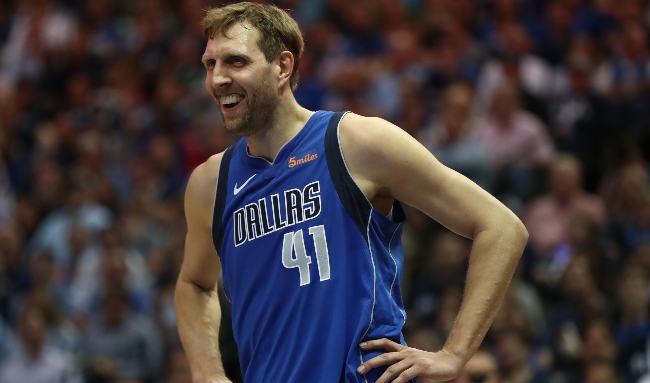 If Dirk Nowitzki's playing career does indeed come to an end at the conclusion of the 2018-19 NBA season, he made sure to go out with a bang. The Dallas Mavericks honored Nowitzki on Tuesday night, which served as the penultimate game of the year and the final home game of the campaign. It was an emotional night, one which highlighted what Nowitzki meant to the team and the community in a myriad of ways.
But still, there was a basketball game to be played, and throughout the course of his brilliant, 21-year career in the league, Nowitzki has proven to be a master showman. That was once again the case in Tuesday's game against the Phoenix Suns, a game in which Nowitzki had his best game of the year.
Dirk went for 30 points and eight rebounds in 33 minutes, going 11-for-31(!!!) from the field and 5-for-14 from three. He started things off with — what else? — a fadeaway mid-range jumper and did not look back from there.
https://twitter.com/NBATV/status/1115812747361443840
It ruled. We could come up with some long, heavy-handed description of how wonderful it was watching Nowitzki cook one last time, but come on, this can best be summed up by saying it ruled, because Dirk rules, and no matter when his career ends, Dirk will always rule. As proof of this, Nowitzki set a record with his performance, becoming the oldest guy to ever drop a least 30 points in a game. The other is some guy named Mike.
Sure, it's totally possible that Nowitzki comes back for one more year, but if he does not, this is one heck of a way for him to go out.