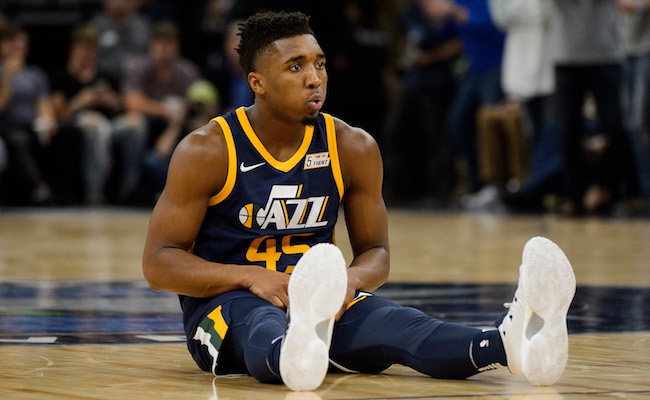 In advance of his team's game on Tuesday evening, Utah Jazz rookie guard Donovan Mitchell made quite a statement about his Rookie of the Year competition, Ben Simmons of the Philadelphia 76ers, and it didn't go unnoticed. Mitchell donned a sweatshirt with a clear message of his viewpoint on Simmons not being a typical rookie which, of course, came on the heels of Simmons declaring he was "100 percent" the Rookie of the Year.
After that back-and-forth (one that may still be brewing), Mitchell spoke in-depth with Chris Haynes of ESPN and outlined his full thoughts on the situation. As part of that explanation, he used an interesting reference to taking an exam.
"I'll say this. I'll put it in perspective for people who obviously don't play in the NBA and don't know the life of the NBA. So, let's say you have an exam to take on June 1 and you have a whole year to study for that exam, you're going to get a pretty good grade on it, aren't you? But some people may not have all that time to prepare for that exam. So, that's how I look at it and I hope that puts it in perspective for people. But at the end of the day, we're in the fourth seed. I got the Defensive Player of the Year and the Coach of the Year on my team, so I'm happy."
Mitchell's logic may not be the most sound in this case but, at any rate, there is no wiggle room in the way he views Simmons' rookie status and, by extension, his candidacy. Still, the former Louisville guard went on to say that he is far more focused on the playoff race and did so while taking a not-so-subtle dig at Simmons.

"I really don't care," Mitchell said. "The biggest thing for me is that we're in the fourth seed and fighting for the third seed. If I'm worrying about individual awards, I'm giving up on my teammates and what we're trying to build here. Clearly, I'm not the one losing sleep over this. I don't care."
At least part of this sudden feud can be attributed to the NBA being the world's best soap opera but, in the same breath, there are some heavy apparent feelings on both sides. Both Mitchell and Simmons are tremendous players but, for many observers, the end of the Rookie of the Year debate will be a welcome event.