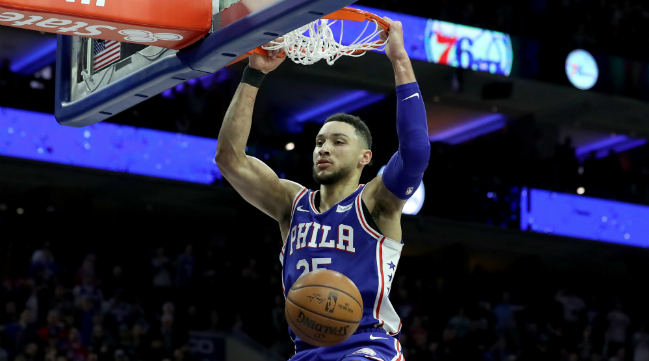 The Rookie of the Year race is coming down to the final days, as Sixers guard Ben Simmons and Jazz guard Donovan Mitchell have been fantastic down the stretch run of the season. While both dudes have an argument for why they should be named the league's best rookie, Simmons doesn't think there's any debate as to who will get the honor.
Simmons sat down with Chris Haynes of ESPN to discuss, among other things, the Rookie of the Year award. Unsurprisingly, the Sixers' maestro believes he's taking the award back to Philly.
"Who would I pick? Me, 100 percent," Simmons told ESPN at the Ritz-Carlton in downtown Philadelphia on Saturday.

"I think I have been playing solid all year," he continued. "If you look at the numbers, you will see. People who know the game know."
Obviously Simmons isn't going to sit there and say he doesn't deserve the award and it has to go to Mitchell, but this is still a rather firm statement by the Sixers' rookie. Simmons went even further and said that he hasn't even had his interest piqued by any other rookie this season, but his reasoning makes it sound like he wasn't necessarily taking a shot at Mitchell despite the fact that it absolutely reads that way.

"None," Simmons told Haynes when asked if any other rookies have caught his attention this season. "I want to be where the greats are. So, for me, I watch the guys like [Kevin Durant], [LeBron James], [Stephen] Curry, Russell [Westbrook]. Guys like that. That's where I want to be. I think for me, that's what I love to watch."
Simmons is already a star in this league, but he doesn't seem content with being anything other than a superstar. He'll get there in due time, and in the meantime, he expects that he'll be named the Rookie of the Year.
(Via ESPN)