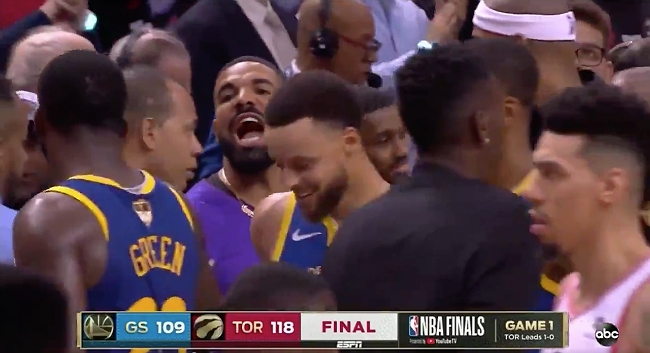 All eyes in the basketball world were on the northern shores of Lake Ontario on Thursday night as Game 1 of the NBA Finals featured the Toronto Raptors for the first time in team history. The opponent was the Golden State Warriors, perennial favorites to win the NBA crown.
But the Raptors have captured the attention of the league for a reason, and they showed that on Thursday with a surprisingly dominant win over the Warriors in Game 1 to take an early series lead. Much was made of the Raptors crowd, which was excellent on Thursday night. But there was also a lot of talk about Drake, who sat courtside once again on Thursday as the Global Ambassador for Canada's only NBA team.
Drake roaming the sidelines has gotten plenty of attention in the leadup to the Finals, and apparently the Raptors were notified by the NBA to watch his sideline antics following an incident in the Eastern Conference Finals where he made contact with Raptors coach Nick Nurse. But Drake — though wearing Dell Curry's Raptors jersey in an effort to troll Steph Curry — was relatively well-behaved on Thursday night.
Until after the game, that is.
https://twitter.com/SportsCenter/status/1134303191833632770
Following the game, as the Warriors left the court in defeat, Drake and Warriors forward Draymond Green exchanged words on the floor of ScotiaBank Arena. It's unclear what Drake exactly said, but it looks like he says something to the effect of "you tried" to Green. He also made this face.
Steph Curry, who he trolled with his jersey, was also nearby and appears to smirk at whatever it is Drake says. There's nothing wrong with a bit of smack talk, and it's not the first time that Drake has gotten into it with an NBA player before. But it's important to note that it looks like Drake was near his seats when this happened, and the Warriors players were the ones who were near him, not the other way around.
We'll see if there's any more talk following this, well, talk, but it's clear after Thursday night that this series will get extremely interesting over the next week or so.