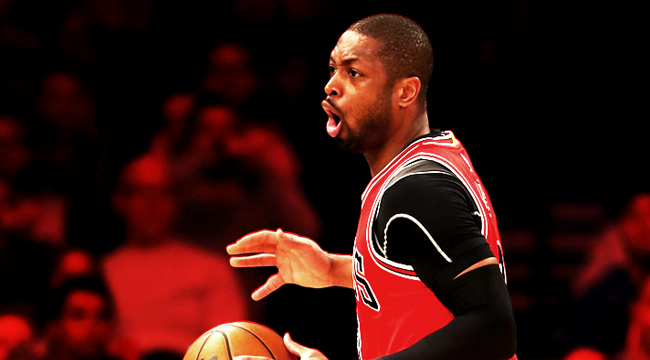 Dwyane Wade is now a free agent after he and the Bulls agreed to a buyout of the final year of his contract on Sunday night. For Chicago, it rids them of their best player and allows their tank to become fully operational, as they hope to kickstart their rebuild in the post-Jimmy Butler era with a top pick in the 2018 NBA Draft.
For Wade, it frees him of having to play on a team that was actively constructed to be bad and allows him to find another team to sign with for the veteran minimum that will be a contender. Wade reportedly gave up $8 million to facilitate the buyout and won't make that up on the market, but getting to a better situation for someone at his point in his career was that important to him.
There are a number of teams that will likely pursue Wade, but four will have legitimate opportunities to sign the veteran shooting guard, and, according to ESPN's Adrian Wojnarowski, he will take some time in deciding.
https://twitter.com/wojespn/status/912130963869716483
Wade's decision could linger into training camp, but teams won't mind if they can add the still-productive Wade. Last season, Wade averaged 18.3 points per game and managed his second best three-point percentage of his career at 31 percent. Wade can still make a difference offensively — he's no longer a plus on defense, however — and his playoff experience makes him extremely intriguing for contenders hoping to make a deep run in the playoffs. The question is: which team is the best fit for Wade?
That's what we'll dive into below, ranking the four teams expected to have the best chance at signing the star in terms of fit and how much Wade would help them inch closer to the Golden State Warriors.
4. Miami Heat
This is the sentimental play, bringing Wade back to Miami where he spent his entire career with last season as the exception would make fans happy and make for a nice story but there's not a lot of reason for Wade to really do this on the court. The Heat have a solid roster, but not a great one, and no one is confusing them for a team that's going to contend for a title next year. They have all of their money for the future tied up, so it wouldn't likely be a lengthy reunion, assuming Wade will want a reasonable contract next summer.
It also doesn't make a ton of sense for Miami, which has Goran Dragic, Tyler Johnson, Josh Richardson, and Dion Waiters all locked up as their backcourt for the next few years on large, long-term deals. As nice a story as this would be, it's not one that makes sense for either side beyond a nice PR hit for Miami and Wade getting to move back to his house in the area.
3. Oklahoma City Thunder



The Thunder keep landing stars this summer, having stunned everyone and traded for Paul George and Carmelo Anthony, so at this point you almost expect them to get Wade — he also liked a tweet about going to OKC, for those that read the Twitter leaves. At first thought, it makes sense. Wade could come in and slot in the two-spot between Russell Westbrook and George, bumping Andre Roberson to a second unit (or being on the second unit himself and being a crunch time "starter").
However, Wade doesn't really fit what OKC needs around their current roster of stars. Wade isn't a spot-up shooter, as referenced above with his 31 percent season being his second best of all time, and wants the ball in his hands. Westbrook, George, and Anthony all also like to have the ball in their hands and would be best served by having a sharp-shooting two guard rather than a downhill, driving one like Wade. It's not to say it couldn't work offensively, but with Roberson as the other off guard, OKC really could use shooting help at that position more than anything.
Defensively, Wade/Westbrook/Anthony is a disaster that I don't think even Paul George and Steven Adams could make up for in totality. Basically, I don't think Wade is an upgrade over Roberson for what the Thunder need out of their shooting guard position with the roster as presently constructed (it would be lots of fun, though!).
2. Cleveland Cavaliers
This is the most likely landing spot for Wade, but I'm not in love with this fit either. Pairing Dwyane Wade with either Derrick Rose or Isaiah Thomas in the backcourt is going to be awful on the defensive end of the floor, but we know Wade's friendship with LeBron is as close as any in the NBA and he does fill an immediate need. The Cavaliers are desperate for more players that can handle the ball — the opposite of the Thunder — and Wade fits the bill there. The Cavaliers' backcourt could use the boost and for Wade, it would give him a starting role that he likely still wants to have in the league.
Playing with LeBron makes most everyone look a little better than they actually are, which helps with the whole needing a contract next summer thing as well. Backcourt defense will be bad in Cleveland with or without Wade, and while I don't think he helps them at all against Golden State (because of the defense) I do think he'd be of benefit for them in the regular season and in the Eastern Conference.
1. San Antonio Spurs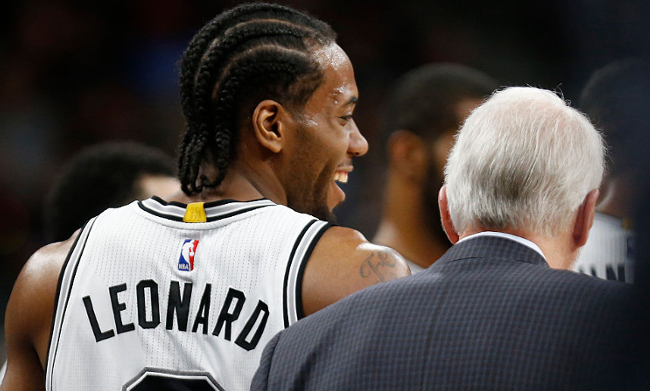 This makes the most basketball sense to me, although I don't think Wade will see it the same way. Wade wouldn't be asked to play too many minutes in San Antonio, as they have a pretty full backcourt roster. However, that might be a good thing for the 35-year-old. Wade could come in and help take some of the workload off of fellow vet Manu Ginobili and there wouldn't be a craftier veteran bench combination than those two. A small-ball lineup with Dejounte Murray, Dwyane Wade, Danny Green, Kawhi Leonard, and LaMarcus Aldridge/Pau Gasol is incredibly balanced and versatile, with plenty of spacing and defensive coverage to hide Wade if need be.
Going to the Spurs wouldn't give Wade the most exposure or minutes, but I think it would be the best fit on the court in the 20 to 25 minutes a game he would play. It would give Gregg Popovich even more lineup versatility to mix and match his backcourt and go small more often with Leonard at the four and beef up a Spurs bench with another veteran but one that seems to have a little more productivity remaining in him than some others.