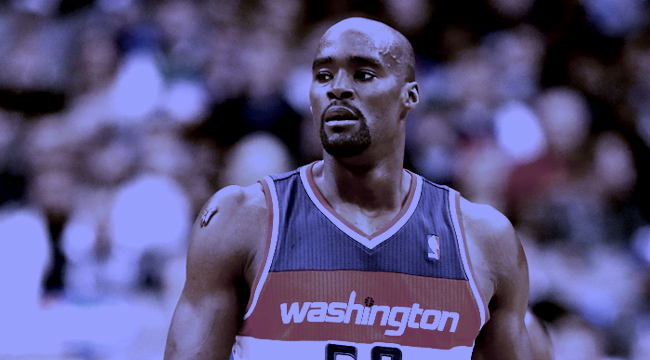 When James Michael McAdoo walked into the gym at the NBPA offices in New York this summer, he found his workout partner to be a little surprising. It wasn't another 24-year-old looking to stay fresh in case a team willing to take a chance on them came calling, nor was it someone with a job already locked down, just getting some work in between meetings. It wasn't an active player at all. Or at least, so McAdoo thought.
Imagine his surprise on the first day of Philadelphia 76ers training camp a few weeks later, when the 6'10, 255-pound frame of 35-year-old veteran Emeka Okafor once again stood across from him.
"It was kinda odd seeing him there, 'cause I know he's been out for four years," McAdoo recalls. "I had no idea he was trying to get back at the time. I thought he had retired. It was crazy showing up to training camp with the 76ers, there he is, and it's like, 'What's up man? Good to see you back.' And then here we are now playing together in the G League."
Yes, the G League. After Okafor was waived by the 76ers, he made the decision to continue his comeback attempt with the Delaware 87ers alongside McAdoo and a roster full of players largely trying to get their first crack at the NBA.
Okafor, the No. 2 overall pick in the 2004 NBA Draft, hasn't played in an NBA game since the end of the 2012-13 season, when a herniated disc in his neck put him on the shelf. When he retired, he was still averaging nearly a double-double, and he'd posted a positive net rating in seven consecutive seasons despite some decline on the offensive side of the ball.
Believing he could still contribute at a high level, his plan all along has been to return to the NBA, despite whatever odds his age and his lapse in play might present. He's healthy now, having opted for the non-surgical route on his neck and gaining official clearance in the spring, freeing him to begin the comeback in earnest.


"It's been good," Okafor says. "A very interesting experience. I've been having a good time. I've always wanted to come back and play, since the moment I got injured. I took some time off, and understandably teams wanted to make sure I still could do it, wanted to do it. There wasn't any hesitation on my part. So, tried out for a few teams and the G League was just to prove that I could, and the want was there."
The four years on the sidelines were not spent dormant. Okafor takes good care of his body, and a mix of swimming, yoga, on-court work, and a host of other activities kept him in something resembling peak condition. He prides himself on being "one good sweat" from game shape, so when the calls started coming from teams willing to take a look, he was able to hit the ground running without hesitation or the need for teams to project what he could look like with a full camp under his belt.
That opened eyes quickly. 87ers general manager Elton Brand recalls Okafor hitting 12 of his first 15 shots out of the gate in his first workout with the 76ers. If anyone wasn't taking his tryout seriously at that point, they soon were.
"We're just looking at each other like, 'This is incredible,'" Brand recalls. "Dunks, layups, jumpers. He was on fire. That's how he initially got his Sixers invite, 'cause he was just, he was killing."
It wasn't until he stepped on the floor in the preseason that Okafor felt truly back, though. Philadelphia gave him 40 minutes over five games to get his feet wet, and he shot 6-for-11 while grabbing 14 rebounds and blocking five shots.
Still, some eyebrows were raised when his strong play persisted with Delaware. Okafor missed a chunk of games due to illness, but when he's been on the court, he's been effective. The staff raves about his ability to guard in the pick-and-roll, teammates describe him as a sort of calming presence at both ends, and there are few G leaguers with the understanding of their role like Okafor, who stays within his game offensively.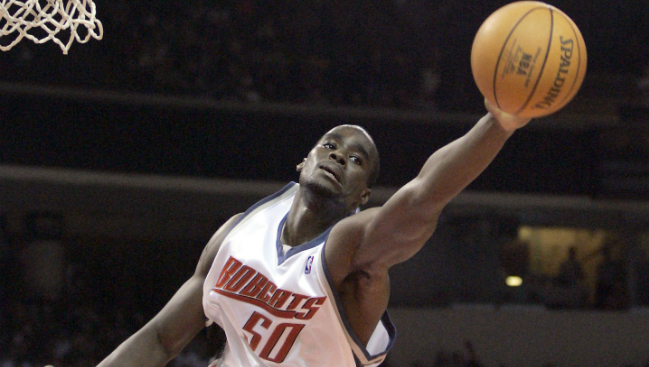 In 10 games, he's averaging eight points, 8.4 rebounds and one block in 21.7 minutes, shooting 63 percent from the field, and posting a robust plus-12.6 net rating despite the 87ers being out to a 3-11 start.
"You know what? I was surprised," 87ers head coach Eugene Burroughs says. "He actually did a lot of work during his time off staying in shape. Like, his body's great, his conditioning level's great. And when you see him play, he was actually a lot better than I thought he would be for having taken four or five years off of playing."
Okafor, however, has not surprised himself. That's the entire point of going through the G League to make a comeback. The stigma around the G League has certainly worn off in recent years. Cases like Okafor's are a little different, and remain fairly rare. Dahntay Jones and Damien Wilkins have stayed ready for NBA chances in the G League, and Kendrick Perkins is playing with the Canton Charge, but by and large, Okafor is trying to blaze new territory here.
"I know what I can do," Okafor says. "I know what I've been doing. It's just proving to the outside world. Hey, man, I understand the perception of being gone for years, and what may or may not have happened during that time. If that's the way to get in, that's the way to get in. My body, my mind, I know myself and what I can do. I wouldn't be out here if I thought I couldn't do it. So I wasn't surprised."
NBA teams looking at Okafor as a mid-season reinforcement will concern themselves with his on-court play. Everyone knows at this point what type of person they'd be getting with Okafor, a former Twyman-Stokes Teammate of the Year Award finalist and an Academic All-American of the Year in his NCAA years (along with almost literally every other college honor that can be bestowed).
It's off the court, though, where the 87ers are feeling Okafor's impact the most. He's essentially functioning as an extension of the coaching staff, mentoring the younger players and speaking up in practices and walkthroughs. He's also rejected Brand's offer to put him up in a single room, instead living the G League life to full effect and rooming with teammates (while also insisting on footing the bill for every meal).


"Emeka's great," says Julian Jacobs, whom Okafor invited to his home in New York for Thanksgiving. "He first time I heard he was gonna be my roommate, I was really shocked, 'causer when he got drafted, I was in, like, fourth grade. I had his rookie card, actually. People think he's pretty reserved but once you get to know him, he's very cool. He has a lot of wisdom playing 10 years in the league. So he just sorta guides me on stuff to do, as far as having a backup plan, thinking outside of basketball, which I really appreciate. He's been great."
McAdoo won't admit to having an Okafor rookie card, but he does concede that the National Championship team he watched Okafor lead is one of the best of all time. He also spent a lot of time in North Carolina during his childhood, which meant seeing a lot of Okafor as a Hornet. Between the "sneak peek" he got in the summer and watching Okafor's approach off the court, McAdoo may be the one 87er who expected such a quick start for him.
"You see him off the court, you expect great things for him on the court," McAdoo says. "It's been a blessing. It's just great to have a veteran like himself. He's a consistent voice in the locker room, he's a consistent voice on the floor, so it's just great to have him with us. And don't get it twisted: He might be old in basketball years, but the man can play."
To what degree that's true is the big question facing Okafor and potential employers between now and the January window for 10-day contracts, the unofficial start to call-up season. Okafor's showing that he can still anchor a defense relatively will, protect the rim and rebound, and score around the rim in a low-usage role there's little question he'll accept. The leadership and experience should help, too. The 87ers believe, based on what they've seen so far, that Okafor's still an NBA player.
"I think, to me, it's probably the right situation," assistant coach David Gale says. "In the right situation, I think Emeka, he keeps his body in great shape, he knows the game, in the right situation he could definitely be gone from us very soon."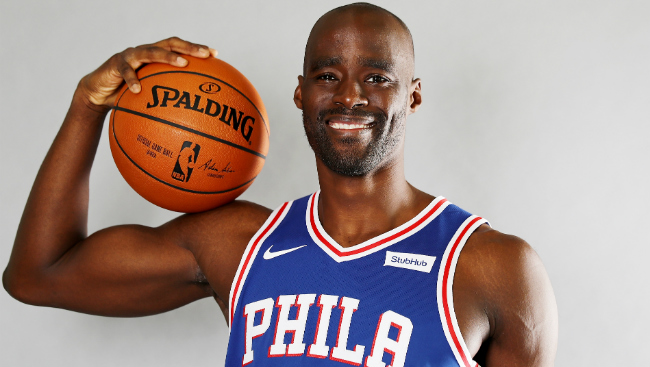 What it may come down to is finding a team that needs interior help at the right time and prefers a steady, proven presence to an upside play with a much younger player. Both types of signings are commonplace, there's just no guarantee the combination of positional need, preference, and timing all line up. In the meantime, Okafor's been a boon to the coaching staff, a positive influence on a young roster that's in the process of turning around a tough start, and he's having fun being back on the court producing.
If those things hold up, he has faith his phone will ring.
"This is fun. I'm enjoying every minute of it," Okafor says. "It's a real blessing. That's why everybody is here: To get picked up. I'm positive I will. We'll see."