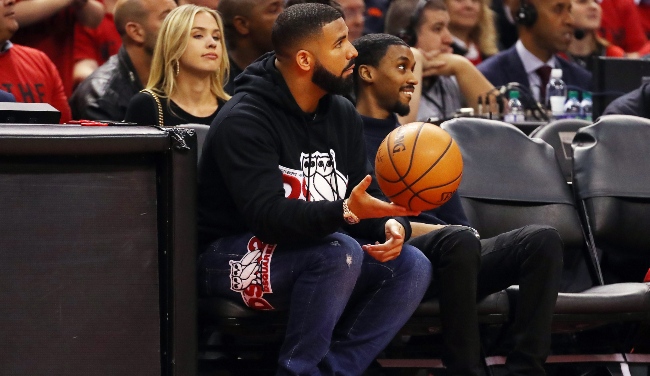 The Toronto Raptors drew level in their Eastern Conference Finals series on Tuesday night, and as is usually the case when good things happen to the Raptors, no one was happier about this than Drake. He took up his usual spot in a courtside seat near Toronto's bench and watched as the team picked up a convincing 120-102 win.
While he was rather excited about this, some were left with a bad taste in their mouths by what Drake did during the game. There were plenty of moments where he was celebrating, roaming the sidelines, and having fun at the expense of Bucks players, especially Giannis Antetokounmpo.
One moment especially stuck out. With the Raptors up by 14 in the fourth quarter, Drake went up to Raptors coach Nick Nurse and briefly rubbed his shoulders.

The freedom Drake has to roam the sidelines and chirp with opposing players is a bit unique, and it's probably safe to assume that most other fans would get tossed if they put their hands on a coach like this. Drake gets a pass in Toronto because, well, he's Drake, and in the eyes of Georgios Dimitropoulos, this is not ok.
Dimitropoulos is the senior director for Octagon Basketball Europe, the agency that represents Bucks star Giannis Antetokounmpo, took to Twitter on Wednesday morning and expressed his discontent with Drake, saying he's "never seen anything as disrespectful as this before."
Again, Drake gets away with a ton by nature of who he is and his ties to the organization — in addition to being a native of the 6, he's a global ambassador for the Raptors. There hasn't been any indication that the Bucks expressed concern to the league about this or anything, but at the very least, it'll give us an added storyline for when Game 6 of this series shifts back to Toronto this weekend.
(Via ESPN)