NBA All-Star rosters will be announced on Feb. 7 and, with every passing day, the conversation grows with regard to which players will be included. As with any year, there are some "locks" in both conferences but, near the end of the 12-man groups, there are real decisions to be made.
With that as the backdrop, Giannis Antetokounmpo weighed in with a player he thinks needs to make it from the Eastern Conference this week while speaking to Matt Velazquez of the Milwaukee Journal Sentinel. Unsurprisingly, that player is teammate and Milwaukee Bucks swingman Khris Middleton.
"I think people have to appreciate him even more if you know what he's doing for this team," Antetokounmpo said. "Khris should be an All-Star this year, definitely. Write that on Twitter with caps."
Obviously, Antetokounmpo has some incentive to support Middleton's candidacy, as the two are friends and teammates. In this case, though, the MVP candidate happens to be right.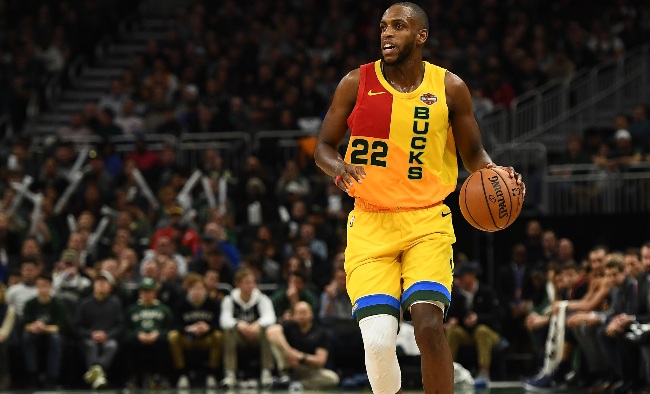 Unlike Antetokounmpo, Middleton has virtually no chance to start the game in Charlotte this year, but the 27 year old has quite a case for reserve duty. At the outset, it is easy to find a handful of sure-thing inclusions among Eastern Conference players, ranging from Antetokounmpo to Kawhi Leonard, Joel Embiid and Kyrie Irving. The next tier is also relatively easy to decipher, with Ben Simmons, Blake Griffin, Kemba Walker, Victor Oladipo and Bradley Beal putting together impressive performances. A wild card is Jimmy Butler, who has an odd case given the way he exited from Minnesota but, as far as on-court contributions are concerned, the veteran swingman absolutely has to be included in the mix.
That brings the East roster to 10. From there, a handful of other players come into the discussion. Nikola Vucevic has been fantastic for the Magic, the Raptors have two intriguing candidates in Pascal Siakam and Kyle Lowry, the Pacers boast Domantas Sabonis and Myles Turner, and there is a chance Dwyane Wade crashes the party in his final year as a professional with the help of the fan voting.
Still, Middleton has a few advantages. For one thing, he is a heck of a player and, with the way the Bucks are playing, Middleton is finally receiving a bit of increased attention for his efforts. It has to be noted that, from a raw production standpoint, Middleton has actually taken a small step back from 2017-18, averaging 17.5 points (down from 20.1) in conjunction with lower usage. However, that is easily explainable with the change in system due to Mike Budenholzer taking over in Milwaukee, and Middleton has been efficient (56.3 percent true shooting) to go along with rock solid production.
Middleton also brings solid defense to the table, which places him in contrast with a few other candidates. He isn't necessarily a game-changer on that end of the floor but NBA teams are constantly looking for two-way wings and, in short, Middleton brings it on both ends on a regular basis.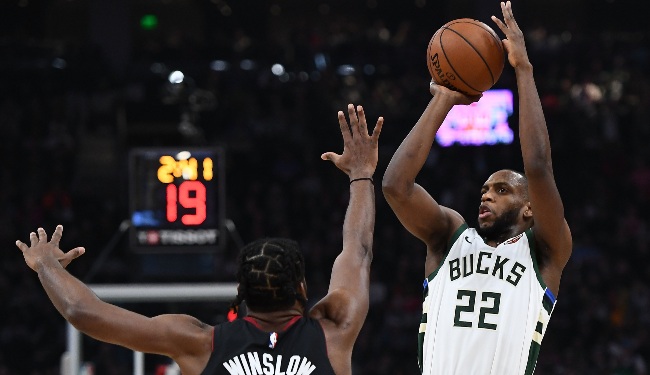 Finally, Middleton has the extremely notable benefit of playing for the NBA's best team. The Bucks may not finish atop the pecking order in terms of the regular season, and the NBA Playoffs are a very different challenge. Still, Milwaukee has easily the best team resume to this point in the calendar and, while Eric Bledsoe would also have a case for inclusion, Middleton is the No. 2 player for Budenholzer's team.
Depending on who you ask, players from top teams getting additional consideration isn't met with universal approval but, in the realm of honesty, it certainly doesn't hurt Middleton that the Bucks don't have an "obvious" second star on the way to their ridiculously impressive showing this season. Regardless, though, Middleton earns his way into the discussion on merit and, alongside the team-based consideration, it also doesn't hurt to have Antetokounmpo trumpeting his running mate.
"He's a winner," Antetokounmpo said. "He's not selfish. He could be selfish and say, 'I'm Khris Middleton, I want the ball. This is my year, I'm going to make this my year.' But he didn't do that. He's playing the right way, he's playing for the team, he's playing to win."
Khris Middleton doesn't average 20 points per game, he isn't a player that generates highlights on a nightly basis, and he doesn't even appear in the top-10 of fan voting at his position right now. What he is, though, is a player who should be an All-Star in 2019.