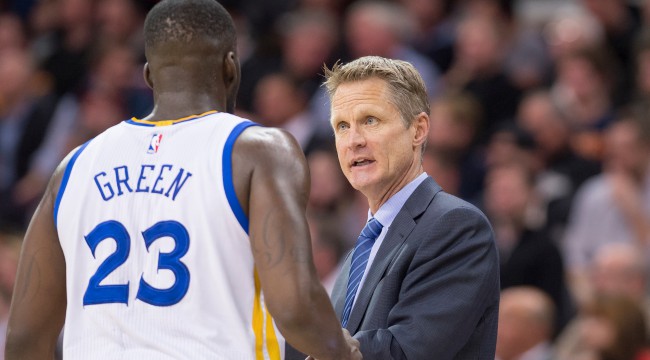 Draymond Green is always intense when he's on the floor, but he does seem to have a solid sense of humor — unless you mess around about sitting him in big games.
With the 69-8 Warriors chasing the '96 Bulls' 72-10 best record of all time, coach Steve Kerr has publicly said the players will have a say in if they rest up for the playoffs or go hard for 73 wins. Draymond Green apparently wants 73.
Before Friday's April Fool's Day game against the Celtics, Kerr tried to play his own little prank on Green, telling him that the coach was planning on resting his starting power forward for the evening's contest. Let's just say it didn't go over well.
From Diamond Leung of Bay Area News Group:
Green, who prides himself on playing when he can and has stated his intention to play for the rest of the season, apparently didn't take it very well.

"I didn't get much of a laugh, and Draymond glared at me," Kerr said. "I told him I was going to give him the night off because he needed to rest. He just glared at me, and I said 'April Fools,' and nobody laughed.

"They usually go over better than that, but just crickets," Kerr added of his jokes. "Nothing."
The Warriors actually ended up losing that game 109-106, dropping their first home matchup of the season and falling to 68-8 on the year at the time. They have since defeated the Trail Blazers to garner win No. 69.
Green played in both games.
This wasn't the only Golden State April Fool's joke, either. Andre Iguodala pulled one on Festus Ezeli that was way meaner than anything Kerr could've done to Green.
Now Watch: Meet The 5 Best Trash Talkers In The NBA