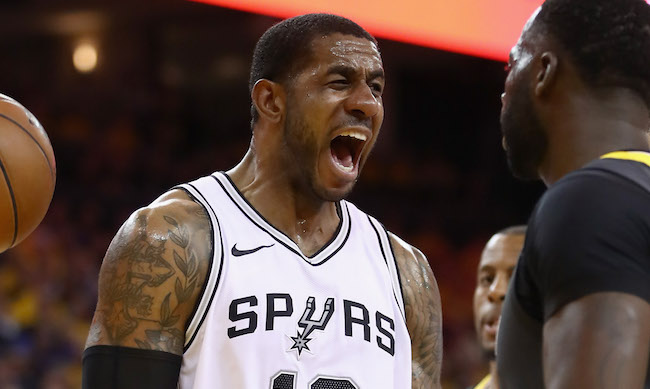 The Spurs looked dead in the water after Game 1 of their first round series against the Warriors, but came out swinging in Game 2 to take a halftime lead and spark some brief hope in the San Antonio faithful. Eventually, the talent gap and Golden State's offensive onslaught would once again prove to be too much to overcome in a 116-101 loss, but the Spurs at least put up a fight and likely will for two more games.
LaMarcus Aldridge led the way for the Spurs, as he has done all season, scoring 34 points and collecting 12 rebounds in 37 minutes of action. In the absence of Kawhi Leonard this year, Aldridge has reestablished himself as a dominant scoring threat in the NBA and worked his way out of his well-documented funk from his second season in San Antonio thanks to offseason conversations with coach Gregg Popovich.
After Monday night's loss, Pop was effusive in his praise for Aldridge, highlighting the way his star forward has gone out there on a nightly basis and played for his teammates and playing through all the adversity the Spurs have faced this season.

"LaMarcus has been a monster all year long," Popovich said. "He's led our team at both ends of the floor. He doesn't complain about a darn thing out on the court. He plays through everything. I couldn't imagine being more proud of a player for playing through adversity and being there for his teammates night after night after night. He's been fantastic."
There will immediately be those that try to read between the lines and see this as Pop sending a message to Kawhi Leonard and his camp, talking about Aldridge "playing through adversity" and all of that. It's possible it's a message, just as it's possible Pop's been letting on his frustrations about Leonard by constantly referring people to talk to "Kawhi's group" for updates on his injury. However, it seems just as likely, if not more so, that Pop wants to make sure Aldridge gets the praise he deserves for leading this Spurs team that is clearly undermanned to the postseason as this series is proving.
Aldridge later told USA Today's Sam Amick that it "means a lot" to hear that from Popovich, who isn't one to offer compliments unless he truly means them.
"(The praise) means a lot coming from him, you know?" Aldridge said. "Pop's a shoot-you-straight-forward type guy. He's not going to sugarcoat, and I think he's been with me the whole way. He's seen the process. He's watched me grow in this system, in this organization, and try to do more, so I'm definitely not satisfied with tonight, but I'm going to keep trying to do my job and try to make guys better."
Amick also pressed Aldridge on the Kawhi situation, to which he politely declined to comment beyond saying, "He has to do what's best for him."