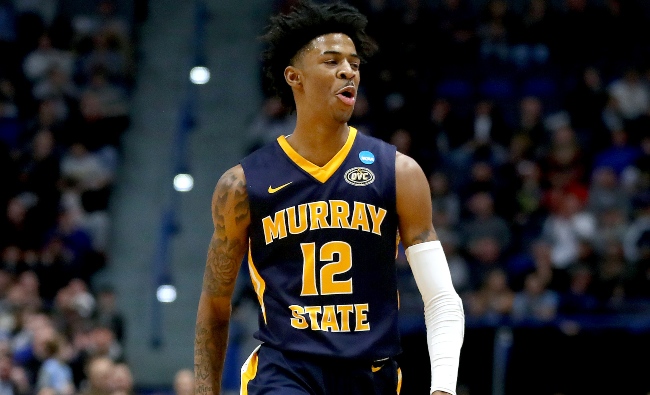 The No. 1 overall pick in the 2019 NBA Draft has been locked in place for months. Whichever squad got the top selection earned the right to select Zion Williamson, and on Tuesday night we learned that the New Orleans Pelicans will get to take the Duke standout unless something unforeseen occurs.
This hypothetically means the unknown aspect of the draft begins with the second pick, belonging to the Memphis Grizzlies. It's believed to be a three-player draft, and if that is the case, logic would dictate either R.J. Barrett or Ja Morant would pique Memphis' interest.
Then again, the suspense about who would go No. 2 overall would disappear if a report dropped that indicated the direction in which Memphis wants to go. That happened on Wednesday night, when Jonathan Givony reported that the Grizzlies have their sights set on Morant, the high-flying guard out of Murray State, unless something comes out of left field.

Obviously anything can happen between now and next month's draft, but Morant would make a ton of sense for Memphis. He'd give the Grizzlies a point guard of the future, either behind Mike Conley, next to the veteran stalwart as an off-ball threat, or right away if Conley gets traded this offseason. Plus Morant would be part of a young core with a ton of promise alongside Jaren Jackson Jr.
Again, anything can happen in the lead-up to the draft, and Barrett would make sense as the kind of high-scoring wing Memphis hasn't had in some time. But if this report comes to fruition the Grizzlies would get the most exciting guard in the draft, while the first opportunity to do something off the wall would fall to the New York Knicks.