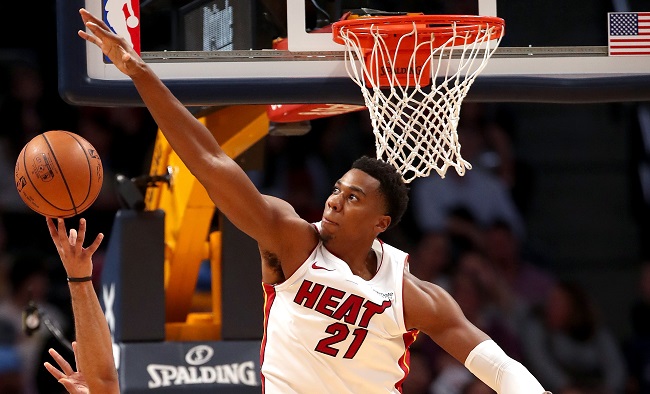 Hassan Whiteside is the highest-paid player on the Miami Heat roster. Yet, the $23.8 million center averaged just 5.2 points and 6.0 rebounds per game in the team's first round series against the Philadelphia 76ers, having been limited to only 15.4 minutes per contest.
After Game 1, Whiteside indicated that he understood head coach Erik Spoelstra's decision to deploy him for only 12 minutes but, as the series went along, that appeared to no longer be the case. After Game 3, Whiteside shared a belief that Spoelstra "wants me to just be in the corner and set pick." From there, things didn't exactly improve for either the player or the team. Following the Game 5 loss that ended the series, Whiteside was at it again.
In speaking to Ira Winderman of the Sun Sentinel, Whiteside expressed frustration with his absence from the floor in what ultimately became his final 2017-2018 game. "Not being out there. Not being out there," he lamented when asked about his central point of frustration. "At least give me a chance to fight. At least give me a chance to fight. I can understand if I was playing 30 minutes and I played bad. At least give me a chance."

Whiteside also went on to describe the season as "a long year" filled with "up and downs" and he expressed that Spoelstra "didn't tell me nothing" when he was pulled for the final time in the third quarter. As far as the future is concerned, the Sun Sentinel report cites Whiteside providing (very) brief answers when prompted on the future, from "I've got nothing to say" to "I can't tell you right now" but the 7-footer did indicate that he will "definitely" discuss his point of view and issues with Miami's brain trust, headlined by Spoelstra and Pat Riley.
The issue with Whiteside stems from the movement of many NBA games toward a smaller, faster style, and of course, the looming factor that he is owed more than $50 million over the next two seasons, provided he decides to pick up a $27 million player option for the 2019-2020 campaign. That contract situation makes things quite difficult, but after the game, Dwyane Wade was asked at the podium about what kind of advice he would have for Whiteside and he shared the following.
"The thing is, as players, you don't want to give yourself an excuse. You want to look and see where you can be better at. It's easy to say that this series wasn't a 'big-man' series. Or it's easy to say that coach did this or that or I got in foul trouble."

"Don't give yourself an excuse. Just go into the summer and work on what you need to work on mentally and physically and get yourself ready for when this opportunity comes again. That shows your real character."
Because of their previous rivalry, the first round series was billed, at least in part, as a match-up between Whiteside and Joel Embiid. Obviously, the younger big man from Philadelphia got the better of that face-off but Whiteside's inability to make a mark on the series doesn't exactly lend itself to a bright future between player and team. It would be unlikely that Miami could extract value via trade for Whiteside at this point, even if they attempted to, meaning Spoelstra and his highly-paid big man will need to come to some sort of common ground concerning his role for the 2018-19 campaign and beyond.
Whiteside does feel like a player with an inflated self-view and, when given the opportunity, he often produces impressive box-score statistics that would help instruct that belief. Still, there is a large disconnect from the way he seems to see himself in the NBA's current hierarchy than what reality entails and that is often the root of many issues with playing time and role in the league.