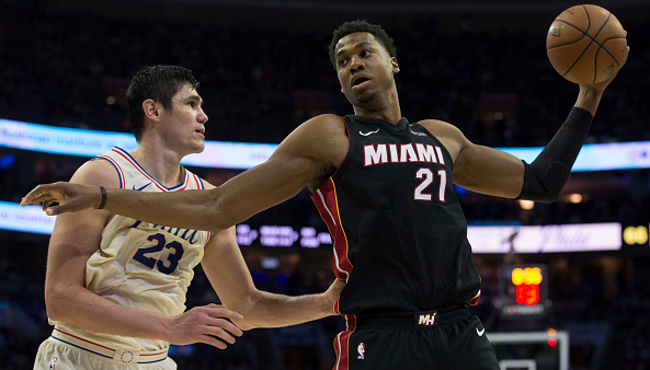 Going into the Miami Heat's first-round matchup against the Philadelphia 76ers, many NBA fans were looking forward to a feisty frontcourt battle between Joel Embiid and Hassan Whiteside, complete with all their past pettiness and animosity. That wasn't the case in Game 1 as Embiid sat out as he continues to recover from an orbital fracture. He's since been ruled out of Game 2 on Monday night as well.
Ostensibly, that should've cleared the way for Whiteside to dominate the paint against Philly. However, that didn't happen. Instead, Whiteside was mostly ineffective in his limited playing time, scoring just two points and corralling just five rebounds in 12 minutes of action during the Heat's 130-103 loss on Saturday.
In fact, Whiteside didn't play at all in the fourth quarter, which was somewhat familiar territory for the big man this season. Rather than going off on another tirade about his minutes, Whiteside bit his tongue when asked about it prior to Game 2, opting instead to voice his support for head coach Erik Spoelstra's decision-making.
Via Manny Navarro of The Miami Herald:
"I think coach wanted some change," Whiteside answered when asked why he thought he played so little. "[Kelly Olynyk] was playing well. Of course, I would love to be out there rebounding and blocking shots and be out there with my teammates. But I think K.O. was playing well so coach just wanted to get him out there."

…

"He just wanted to change it up," Whiteside said of what was said as he went to the bench. "I trust coach. I trust his decision-making. We didn't get this one. They shot amazing from the field. We didn't get this one, but we move to Game 2."
Whiteside earned himself a fine and a reprimand from the team earlier this season for criticizing Spoelstra for benching him late in games, so one has to question his sincerity in this case, but it's at least the right thing for him to say publicly even if he disagrees with the decision on the inside.
It'll be interesting to see just how this dynamic continues to play out when Game 2 tips off at 8 p.m. ET on TNT on Monday night back in Philadelphia.