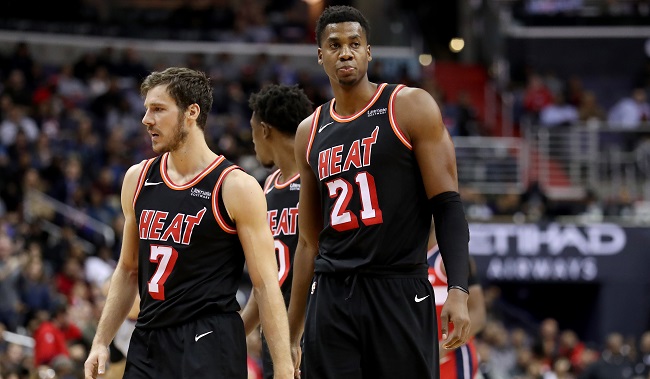 The Miami Heat lasted only five games in the Eastern Conference Playoffs, and that result didn't feel out of place. Erik Spoelstra's team is well-coached and reasonably talented, leading to a season in which a playoff berth seemed relatively easy. After missing a year ago (despite an absurd stretch run), one could argue that Miami's performance this year was an encouraging step forward. While that might be true simply from a progression standpoint, the team's five-game exit at the hands of the Philadelphia 76ers could also foreshadow significant issues for the future.
Because the Sixers had the two best players in the series and a raucous home-court atmosphere, there is, of course, no shame in Miami falling short of advancement. After all, Philadelphia is now seen as a legitimate candidate to reach the NBA Finals, and even if that felt impossible just a few months ago, the reality of their overall talent level is staggering. On the Heat side, though, no such upside appears to exist and that is a troubling reality.
The Heat needed a throwback Dwyane Wade performance in Game 2 to secure their only victory, and just weeks ago, Wade was in another uniform and not part of the plan in Miami. The actual plan, though, included sizable contracts to a large group of largely solid, yet unspectacular, players that allowed Pat Riley to avoid a rebuild that he has no interest in, while simultaneously placing an artificial cap on the team's upside for the near future.

Columns have already been written concerning the Heat and a potential roster overhaul, which makes sense after a playoff exit like the one they just endured. A glance at the salary cap sheet, however, reminds everyone that Miami isn't exactly in a glowing position. Miami is currently responsible for $118.9 million in guaranteed salary for the 2018-19 season — and that doesn't include any money for important bench marksman Wayne Ellington or the potential return of Wade.
Without a roster move of some sort, the Heat would be backing up against the luxury tax for a team with a roster ready to win 45-ish games, and it's clear from the post-series reaction that a similar result won't be deemed acceptable.
While a one-year purgatory and holding pattern may be something that the franchise (and its fan base) can bear, perhaps the bigger issue is the multi-year cap situation in Miami. Hassan Whiteside ($25.4 million) and Tyler Johnson ($19.2 million) are locked in at their cap figures for 2018-19 but, after that, both will enjoy player options ($27.1 million for Whiteside and $19.2 million for Johnson) that appear quite enticing for each player. Provided those are exercised, the Heat would have almost $97 million committed to a six-man group of Whiteside, Johnson, Kelly Olynyk, James Johnson, Dion Waiters, and Josh Richardson.
As you may have noticed, that does not include Goran Dragic (player option for $19.2 million) or Justise Winslow (entering restricted free agency in the summer of 2019), leaving plenty of additional uncertainty.
In short, the Heat have a salary cap problem and the organization is also void of draft capital in which to potentially address it. Not every contract on Miami's books is disastrous, with great value in Richardson and a reasonable commitment to Dragic jumping off the page as acceptable. Still, the lingering issues with Whiteside, both with his on-court effectiveness and apparent desire to stir things up, and the long-term money assigned to veterans unlikely to improve paints a dreary picture.


It is possible that Riley could enter the off-season with a clear vision of an overhaul and there are movable parts to accompany that idea. Still, Miami's resistance to rebuilding, and subsequent "all-in" commitment to a team without any semblance of title contender upside, leads to a moment in which the organization might be forced to be content with the No. 7 seed (or something in that range) over the next few seasons.
That isn't quite the disaster zone that the Hornets and Pistons are in, simply because the Heat could conceivably catch fire, invigorate the fan base and even steal a playoff series, rather than be stuck in the 35-win range without flexibility. With that said, Riley will have decisions to make in the off-season and, even if he wanted to "blow it up" or even angle toward a more significant rebuild, the task would be much more difficult on the heels of a 2017 summer that just didn't make much sense in the current NBA landscape.
The Miami Heat performed admirably in their playoff match-up with the Philadelphia 76ers before succumbing to a more talented team in the midst of its ascent. It is tough to ignore the dichotomy, though, as one team soars and the other faces an uncertain — and frankly, uninspiring — future.