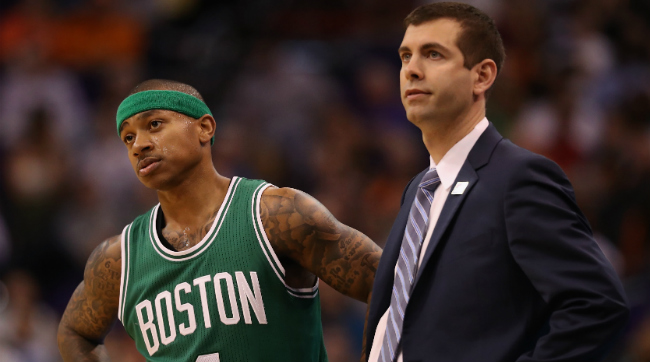 It's rare that a member of the Los Angeles Lakers offers up a ton of praise for the head coach of the Boston Celtics, but Isaiah Thomas is no ordinary member of the Lakers. While Thomas suited up for the purple and gold for 17 games before his season came to an end due to hip surgery, the former All-NBA guard has made it no secret he bleeds green.
The National Basketball Coaches Association gave out its Coach of the Year award to Toronto's Dwane Casey on Wednesday morning, but curiously, Celtics coach Brad Stevens didn't receive a single vote. Word of this got back to Thomas, who tweeted out his support for his former head coach ahead of the official Coach of the Year award being given out next month.
It was rather surprising to see that Stevens didn't get any votes from his peers for the award — as Marc Stein of the New York Times pointed out, each coach votes for one other coach to win the award, but it's still weird that no one in a group of 29 people went "Brad Stevens was the best coach in the NBA this year." While he doesn't play for him anymore, it's still nice to see that Thomas has Stevens' back.