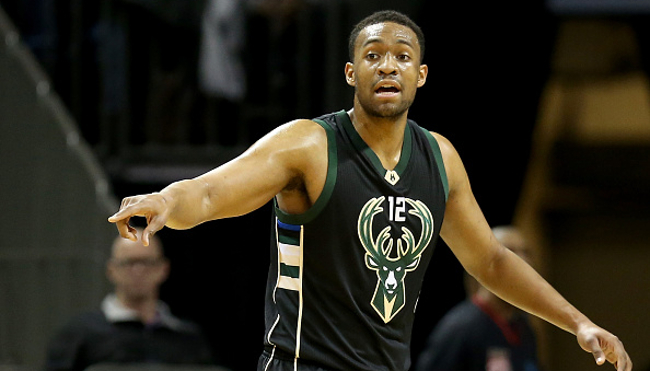 Not only is Jabari Parker getting a fresh start to his somewhat floundering NBA career; it's a homecoming, of sorts. As such, during his introductory press conference with the Bulls on Wednesday, he was effusive in his praise of fellow Chicago native and former franchise star Derrick Rose, who he called "one of the best players to ever play the game."
This summer, Parker signed a two-year deal with his hometown Bulls worth just over $20 million per year, with a team option for the second year. In a sense, he's playing for his next contract and trying to prove to the world that he can live up to the immense potential that made him the No. 2 pick in the 2014 Draft. Parker has shown flashes of brilliance in his career, but he's also battled knee injuries and was nudged out of the spotlight as Giannis Antetokounmpo emerged as the Bucks' bona fide franchise star.
He's joining an intriguing young core in Chicago that includes Lauri Markkanen and a recently re-signed Zach LaVine as the organization is starting to fully embrace its rebuild. Parker will get plenty of opportunities to show what he can do as a focal point of the Bulls' offense, and for better or worse, he's also been rather candid about the fact that he doesn't have much ambition toward the other end of the floor.
Via 670 The Score:
"I just stick to my strengths. Look at everybody in the league. They don't pay players to play defense. There's only two people historically that play defense. I'm not going to say I won't, but to say that's a weakness is like saying that's everybody's weakness. Because I've scored 30 and 20 on a lot of guys that say they play defense.

If you know the game, you also know that everyone's a pro, right? And you know that certain guys have an average. No matter what you do, they still get that average. They pay people to score the ball, and I would hope that somebody scores the ball on me if they pay them that much. So, I'm not saying that to cop out or nothing. It's the NBA. We're professionals. Everybody scores. It's just about limiting them as much as you can, trying to contain them."
It's a bit reductive, not to mention a little cynical, but there's also a kernel of truth there. Certain guys are going to get theirs, as a the saying goes, yet he also inadvertently alluded to the fact that, sometimes, those are empty stats depending on their efficiency, at what point they come during the game, and whether they translate to wins.
We're also going to assumed he's referring to Kawhi Leonard and Draymond Green as the league's two premier defenders, which is accurate, but that also ignores how the NBA has placed a premium on 3-and-D-type wing players in recent years, of which there are more than a few.
If we're being honest, we were never expecting Parker to suddenly evolve into a defensive stopper, although again, he's shown he's more than capable of making an impact on that end. It's the sentiment, the notion that a guy who is working to rehabilitate to his career and prove his value probably shouldn't come across as so dismissive toward an aspect of the modern game that most folks around the league hold in high esteem.