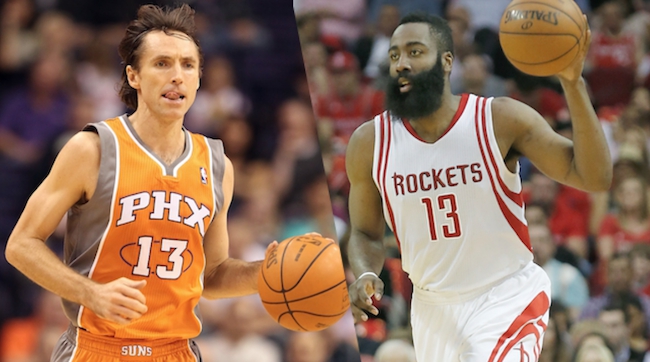 The Houston Rockets laid an egg last year. On the heels of a Western Conference Finals appearance, they struggled to finish .500 as they buckled under personality problems and piss-poor defensive effort. They fired Kevin McHale within the first month of the season, and replacement coach J.B. Bickerstaff was never able to right the ship.
As such, a facelift was in order this offseason. Rather than trying to restore to defensive moxie that took them to within three wins of the Finals in 2015, though, Houston has made a hard turn into pace-and-space methodology, hiring Mike D'Antoni as their new head coach and signing Ryan Anderson and Eric Gordon as free agents while watching Dwight Howard walk away to the Atlanta Hawks. There will be a lot of running, and there will be a lot of three-pointers.
James Harden, for his part, says he's ready to be the composer of a "seven seconds or less" style, even comparing himself to Steve Nash — who D'Antoni coached to multiple MVP awards with the Phoenix Suns — in recent days.
"I got a little bit of Nash in me," Harden told ESPN of the Rockets' paradigm shift. "He had his own pace to the game; that's what I took out of that. You could never speed him up, you could never make him do anything he didn't want to do, that's what separated him from any other point guard at the time, which led to two MVPs."
It'll be fun to see if a big old ball-stopping beard can be the nexus of an effective D'Antoni offense.
(ESPN)