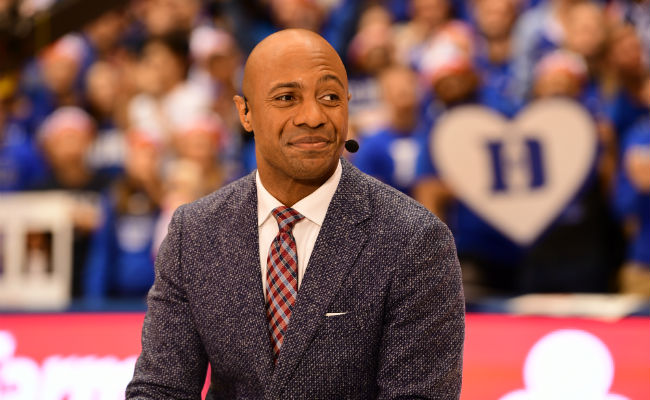 Jay Williams is a hoops junkie. The ESPN basketball analyst and former No. 2 pick in the 2002 NBA Draft loves the sport in all forms, whether that means taking in the latest monster game from James Harden or checking out the next generation of potential superstars. He's as pumped as anyone about where we are in the sports calendar, because with college football done and the NFL preparing to wrap up another season in the next few days, basketball in all forms is about to take the spotlight.
The NBA is in full-swing, while college hoops is gearing up for conference tournaments and the NCAA Tournament in March. High school hoops, meanwhile, is getting into All-American season, as the McDonald's All American Games announced their rosters for the 2019 campaign, highlighted by names like Memphis commit James Wiseman and Oak Hill Academy standout Cole Anthony.
Williams sat down with Dime to discuss the game's legacy, both as a hoops fans and as someone who participated in it back in 1999. While we had him, we picked his brain on Duke's sensational freshman class of Zion Williamson, R.J. Barrett, Cameron Reddish, and Tre Jones, and got his thoughts on the new avenues opening up for high school basketball players who want to skip college and focus on their pro careers.
Dime: You played in the All-American games, got all the national honors, all that stuff in your high school career. Was there anything about the McDonald's All American game that especially stuck out?
Jay Williams: Yeah, first off, I was a McDonald's All-American. It's something that I've always dreamt about since being a little kid. You think about the brand names like Michael Jordan come to mind, names like Isaiah Thomas come to mind, names like Larry Johnson come to mind, the best of the best. Obviously there are a lot more included in that list now from Kyrie Irving, to Kevin Durant, to LeBron James.
But for me, back in 1999, just getting that letter with the McDonald's emblem on it almost made me faint, almost made me pass out, because you were in this upper echelon that you have always strived to get your name associated with the best of the best. So, for me, I got a chance to play my game in Ames, Iowa, which was really cool, because I played with a guy named Jonathan Bender that decided to skip college after that game and go to the pros, but it was also my first taste at what that life was going to entail. Dealing with the media, having the media ask me personal questions about my life, I was becoming somebody, it was my first stint at handling that, going on the Rosie O'Donnell show back then and flying to New York and wearing my McDonald's All-American outfit, being asked questions on the national stage was something I never dealt with before.
I think for these kids, it's different, because they've dealt with a lot of national attention, but now, they're actually … this is their welcoming committee, this is their first time where you have arrived, you are here. We know who you are, we're going to watch who you are, and you've made it to this point, but it's also just the beginning, too. So it's this conflation of emotions, because it's really the beginning of your journey for where you're about to be for your life.

I imagine, and you can correct me if I'm wrong on this, when you're a high schooler, you read the newspaper articles, you hear all the hype, but this is really the first thing that gives you that feeling of being linked to the Magics, the Mikes, the Patrick Ewings.
Yeah, if you're looking at the NBA — which every kid does, it's the ultimate dream — this is your first taste at that life. You're being flown out, you're staying in a really nice hotel, you're playing against the 0.0001 percent of the United States. You're in that stratosphere that is so unique and rarified, and the lights are as bright as they can be. The names or the people that you see on TV talking about the elite of the elite are now spending time talking about you, you're on SportsCenter. So yeah, maybe in your own way, and there are obviously certain people who break through that threshold like Zion Williamson last year who are social media wonders of the world, but a lot of these guys are in their microcosm, they're in their own little bucket, and there might be national attention, but that's only for the people who follow high school basketball to every single degree. Now we're welcome you and introducing you to the masses.
Any favorite moments from the history of the game that, when you look back on it, really stick out as cool, defining moments?
I don't think, maybe, more so in the game, I think the presence. I remember watching LeBron James when he first came. You obviously heard so much about him and I've seen some of his high school games. But, you know, when you see his high school games, you're seeing who he was playing against, you're like, "Oh, OK. I want to see him against real competition." And then seeing him against real competition, you're like, "Oh, he is what everybody says he was going to be and better."
I think you have those moments of realization with some athletes. I felt the same way about Kobe back in the day or Vince or Kyrie Irving, where you see it through the high school lens, and then when you see it at that next level, where they're doing it against the top of their peers and dominate, that's when you start to say "Oh, OK, I've seen the potential but this potential has the chance to really blossom to reality fairly quickly."

While I have you here, I think we have to talk a little college ball. I figured you're as good a guy as there is to ask about Duke. This last year, they bring in this historic class and they've proven to be awfully good. Had you followed them at all in HS/AAU ball or was the All-American game scene your first time seeing these kids?
I've actually been following Zion since he was 15 years old. I heard about him through some people in South Carolina and in the basketball circuit, and actually saw him play and AAU game and was like, "Oh, OK, that kid's body type is different." Now, his body type was drastically different then, but he's quickly grown into it. I've obviously heard about R.J. for a while, too, just understanding how many big-time players have came from Canada, and Bill Duffy was my agent who also represented Steve Nash, and I heard about that affiliation with Nash and R.J.'s father that played on the Canadian national team.
I knew about Tre because I followed Tyus, and I heard the coaching staff talk about Tyus for a long time then, obviously, Tre who they deemed almost potentially better than Tyus. And then I started hearing about Cam, as well, so I've known about … here's the thing, we love to, I guess, consolidate our basketball culture. We love to say, "Here's the NBA, here's college, here's high school," and I feel like the next step in how we think through the process of our athletes through the basketball vertical is one vertical. Like, Chris Paul and all these guys have AAU teams, they pay attention to who the next crop is, they mentor kids, we see kids at the LeBron James skills academy, we pay attention to them all the time. Those bonds have been formed, so within the basketball world, we know about all these guys, we hear about them, and we're all basketball fanatics, we love the game, we study the game.
So, yeah, I've known about all of these guys for a while, and a beautiful part about how they are playing USA Basketball, there's no ego associated with them. You would think that Zion Williamson, who gets all the attention in the world, it's easy for that to go to a kid's head at 17, 18 years old. You see him do interviews, he deflects, he'll ask other guys, "Hey, don't you want to play for the Knicks?" because he doesn't know how to deal with it yet, but you're also watching a kid deal with that. Or R.J., who's already poised and answers questions like a pro and trains like a pro, seeing him out in L.A. with Drew Hanlon, you're like, "Wow, this dude is training like a 25 year old at 17 years old." Or Tre and the way he's so dynamic with his relationship with Coach K, he's a true extension of Coach K on the floor. I couldn't say I was that at 21 years old, let alone this kid is doing it at 17, 18. I think the level of maturity with where we're at right now in basketball culture has made these kids drastically different than the experiences I had 17, 18 years ago.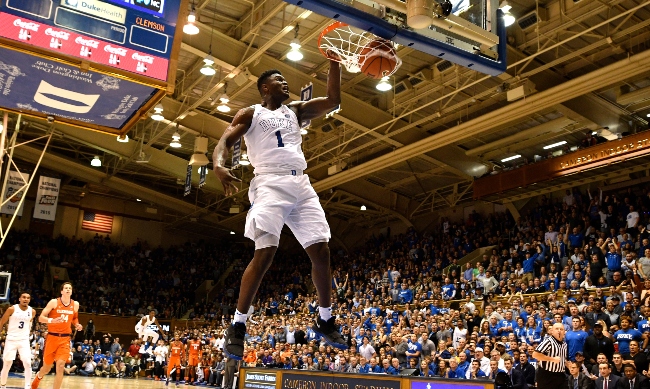 Zion has turned into this superstar so soon in his career. You've followed him for a while, everyone knows the explosive dunks, but what impresses you the most about him beyond that stuff — or does that thing impress you more than the fact that he's 18 and can levitate?
It's apparent that his athletic ability is on a different plane, but the one most impressive attribute of Zion Williamson is that he loves the game and he loves to work. I can't harp on that enough, I meet kids all the time, we see players all the time, you cover the NBA, you know this. There are a lot of guys where you'll watch where they have all the potential and all the talent in the world, but it's that lack of the process, the lack of the love, the affinity for the hard work that really hinders them from going next level.
When I think about Zion, there's so much room for improvement with his game. We haven't really seen him take a mid-range jump shot because he's never had to, he's always been the most athletic player on the court. His handle is something that's good, but it can be a lot better. He can shoot the three a lot better even though he's been shooting the ball as well as he has all year as of later. But he still goes into the gym and puts in that effort, and I think whatever team gets him, the upside is off the charts because he has that work ethic.
You see double-digit rebounds, and that goes back to one of the best lines that Ben Wallace ever said to me. We were playing USA Basketball. We ran a pick and roll, and he popped and was wide open to shoot, and he didn't shoot. The next time out, I said, "Ben, shoot the ball, you're open, man." He's like, "That's not why I'm on the court. I'm on the court to rebound, to set screens, and to play hard," and he said it with this passion where he looked me in the eyes with these crazy eyes, and I was like, "Ok, I'm not gonna argue with you, I now understand why you got paid your $60 million." I learned you can't teach that, some players have that, a lot of other players don't. When I see Zion play with that same kind of fiery passion where he wants to rebound, he wants to set screens, he wants to work defensively, and then you see the upside of what he has offensively, those are rare combinations, man. You don't get guys that have that talent but also have that work ethic. That's who he is as a person.
I think it'd be fun to pick your brain about college basketball and amateurism a little. What do you think of new avenues opening up that look to be viable options for kids who maybe don't want to attend college — the G League, Australia's National Basketball League, etc.?
Well, I don't know if you have enough time to hear all my thoughts on that. Look, what Darius Bazley did, I love it. I love it. You do an internship with New Balance, you can train and get ready for the NBA Draft. It's easy for people to say, "Well, if you don't like it, go overseas." Ok, you try to go play in Slovenia when you're 16 years old, 17 years old, and your family can't come with you, and you're on a team with grown men and their families, there's no camaraderie, you can't be a kid, there's no internet that you're used to as far as social media platforms. That's very challenging.
I see now that there are other avenues opening up, whether kids just want to train, whether kids do want to go overseas, or whether you do decide to go to college. I would hope that we could get to this point that we can build in some kid of revenue sharing model through the NCAA. I know Title IX makes that more challenging, but still, for the two sports that create the most revenue within college football and college basketball, we're seeing prices get to a point that are absurd. We're seeing offensive coordinators for certain college teams get paid $2 million a year. We're seeing head coaches of college basketball teams get paid $6-8 million a year. We're seeing the rights to tournaments go for billions of dollars, in the double-digit billions of dollars range.
That's just now, who knows what's gonna change with the media landscape as Amazon or Apple start to play in that live content field, you can see prices drastically go up. I think that athletes are becoming more aware, more than ever now, because we're informed, we have the information that's in front of us, which allows us to make better decisions for us — if the NCAA is making decisions for them as a business, I think athletes should have the right to make decisions for themselves as a business. It shouldn't be deemed as bad that they're looking at themselves as a business. Colleges are operating that way, the NBA is operating that way, the NCAA is operating that way, I think it's OK for players. Now, having a better understanding of that, I love that we're seeing other options for players to get to their goal faster and more efficiently.