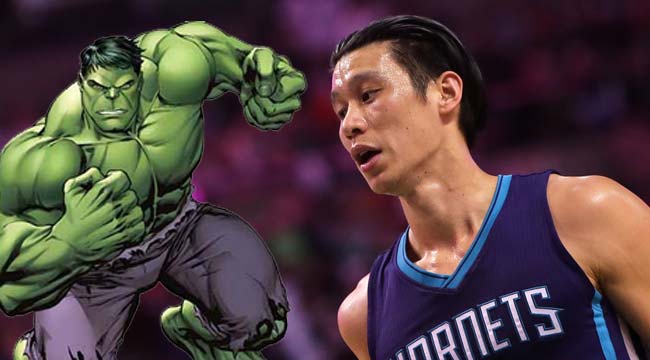 Jeremy Lin has had a hell of an offseason. Speaking in strictly basketball terms, Lin has been successful, landing a multi-year deal to be the starting point guard of the Brooklyn Nets. Outside of basketball, he's had even more fun, appearing in a bonkers music video and an incredible Space Jam parody. Well, he isn't done yet.
Lin (or a drawn version of him at least) will be appearing in the current run of Incredible Hulk comics from Marvel, titled Totally Awesome Hulk. In case you're not up on your comics, the Hulk entity is now part of Korean-American genius Amadeus Cho, who is not as conflicted (shall we say, emo?) as the better-known David Banner, choosing to see the fact that he is the Hulk as "totally awesome." Apparently, Lin appears to help teach the cocky Cho-Hulk the [after-school special voice] value of teamwork. If that sounds corny, allow the head of Marvel comics to retort:
"[My nephew] Reece had just learned that the new Hulk was Korean and could not fall asleep because he was convinced now that he would be the next Hulk, because a Korean boy became the Hulk," [Marvel editor-in-chief Axel] Alonso said.

"It blew his mind that a Korean boy could be the Hulk. That spoke volumes to me. I had to call him and explain … [that] there would only be one Hulk and he had nothing to worry about. … Then he fell right to sleep. Now I don't know about you, but I think that's a significant thing and I think that part of the reason that we're in this business is to touch people like that."
It's part of Marvel's commendable wave of more ethnically diverse superheroes, and if using the only Asian American NBA player can further relate to those kids, we're all for it.
(Via AM New York)