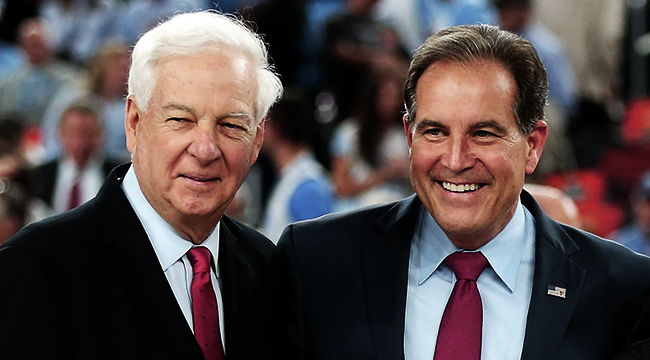 Before the second weekend of this year's NCAA Tournament in Omaha, Jim Nantz, Bill Raftery, Grant Hill, Tracy Wolfson, and "The Google Boys," as Raftery calls the research team, were causing a bit of a ruckus in their hotel conference room. Nothing too crazy, mind you. Everyone was having a "lemonade or two," Raftery says (more accurately the group was sharing a couple bottles of The Calling, Nantz's wine he makes with wine mogul Peter Deutsch), and preparing for the Sweet Sixteen games — Clemson vs. Kansas and Syracuse vs. Duke — the crew was calling on Friday.
"It's like being in college," Nantz remarked about the atmosphere, mentioning a game everyone played where they passed a pepper shaker around the table after every point that was scored as they watched that Thursday evening's matchups.
The laughs and chatter got louder, and they could be heard from the next conference room over, where the Jayhawks staff was preparing for their game against the Tigers. So naturally, Kansas head coach Bill Self had to stop by to see what was going on after they broke for the night and were done watching film.
"I guess he has trouble sleeping during these things," Raftery says. "I remember teasing him. Saying something about would you like a glass of wine? He said, 'No, no, no I got stuff to do upstairs.' I think he was going to look at more tape. So I joked, 'Yeah, I saw your last game. You should take a glass of wine.' I actually felt bad then when he left. Like I didn't mean it, I meant it as humor, and I'm thinking, 'Gee, I hope he doesn't interpret it as he did a lousy job in that game.' It was great. He was open about his team and about who they were playing. It was really a great little get together."
If Self did take offense, he didn't show it, and he certainly didn't internalize it – his team knocked off Clemson and then Duke en route to a Final Four berth. But it was impossible for him not to notice how much fun everyone was having.


It's no surprise that energy carries over into the broadcast, as Nantz's reunion with Raftery gave way to the strength of Wolfson on the sidelines and the growing confidence and steadiness of Turner analyst Hill (who is set to join the 2018 Basketball Hall of Fame class). The relationship between Nantz and Raferty goes back three decades, and the pair started their broadcasting partnership in an unlikely place.
Their first game together was Arizona vs. Miami in January of 1986 at the James L. Knight Center. Miami had recently brought back its basketball program and were taking on Lute Olsen's Wildcats, featuring Sean Elliott and current Warriors head coach Steve Kerr. The Knight Center wasn't a typical venue.
A performing arts center with theater seats that has hosted everything from Miss America pageants and R.E.M. concerts to professional wrestling, it wasn't exactly an ideal spot for basketball games. One side of the court was a wall. There were no stands and players could run into the wall if they ran out of bounds. The other side of the court was the auditorium — it was set up for, say, watching a musical. For a Miami team that had been dormant for years, just playing at all was a minor miracle even if the setting wasn't conventional.
Nantz had joined CBS in 1985 as part of their college football studio coverage and was coming off doing play-by-play for the Cotton Bowl between the Texas A&M Aggies and the Bo Jackson-led Auburn Tigers. He segued quickly into college basketball and Raftery was his first partner.
Nantz wasn't "The Voice" yet, he was just another young broadcaster trying to make his mark.
"What a gift that was," Nantz remarks. "Raft makes it so easy when you're trying to create chemistry with a stranger. You're told to advance the chemistry that might take two or three years for people to pick up on. Raft, just being Raft, accelerates that process instantly to about year three of a relationship. You get past all that awkwardness early and then you've got a friend. On the air, there's a chumminess that comes through that sounds like you've known each other forever."
The pair did a few more regular season games together then got partnered up for the first weekend of the NCAA Tournament. At that time CBS didn't broadcast the first round games. Instead, that round was put together by NCAA Productions, which would then place the games on ESPN or local markets. From the second round on, CBS took over. The first round went so well, Raftery and Nantz were placed in studio through the Final Four, and they had a few years together before things got shaken up.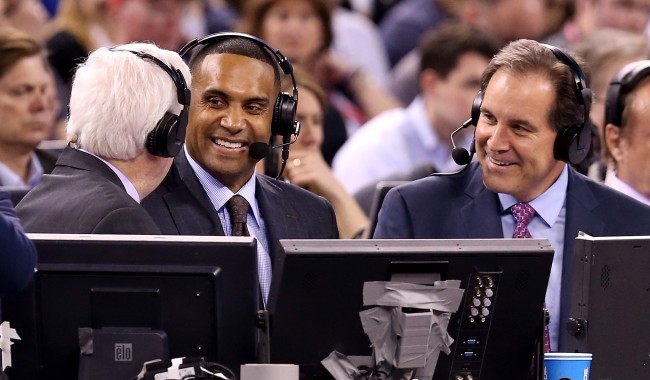 Nantz took over Final Four hosting duties from Brent Musburger in 1991, and called 18 National Championships with Billy Packer. But Nantz and Raftery remained friends, golfing together and meeting up whenever schedules allowed. As Nantz points out, Raftery would always be important to him even if they never called another game together because he was the first game analyst he ever was put on the call with during his college basketball assignments. Raftery kept calling games, whether it was for CBS or ESPN with Sean McDonough and Jay Bilas, waiting for his time to be put on the Final Four call on CBS. (He had done the radio call of the Final Four for more than 20 years prior.)
It finally came in 2015, and he was reunited with Nantz. They picked up right where they left off.
"We like him," Raftery says. "And he likes us, that's sort of a silly way to say it. He has a great sense of humor. It's just fun for us when we say something to look over, Grant, or myself. He doesn't give it the TV laugh if it's not or do the TV laugh, but when I look over, and I see him smiling, it's a good feeling. He gives, and well takes too, which I think makes everything comfortable. Puts us at ease I think as a group, and I think that started the first day we were all together."
If Nantz puts everyone else at ease, Raftery allows them to be comfortable letting loose.
"Raft is just able to take the broadcast for all of us to places that I think results in some really good chemistry, happiness, joyfulness and all these kinds of words that college basketball — in this festival — should be celebrating," Nantz says. "I think it's capturing the vibe and the spirit of college basketball. The goodness, the good side of college basketball. I think it's a reflection of some of that. I hope it is anyway."
A few years after their first pairing at the Final Four, the National Championship game has moved to TBS, but the bond between Raftery and Nantz (and Hill) has only gotten stronger.

Wolfson, who has worked with Hall of Fame broadcast crews and has seamlessly jumped from sport to sport, has noticed that the jovial but professional relationship between the pair has been infectious. It starts off the court, whether in hotel conference rooms, team dinners, or at St. Elmo Steak House, where Nantz always holds court when he's in Indianapolis. Nantz keeps things moving and even keel in his role as a traffic cop, and Raftery brings insight and humor everywhere he goes, allowing Nantz to change speeds.
"It's respect for each other," Wolfson observes. "As a play by play guy sometimes it's hard to get your stuff in, let the other person talk, and then there's a third guy in the booth. And what Jim does so amazing is know that when it's Bill's turn to speak to lay out because what he's going to say is going to be important and reverent, and he always captures the moment. So you want to let him have that moment. And Jim is a consummate guy when it comes to being able to do that. He's so good at it, and he allows Raf to have his moments."
Those moments can be big shots, or they can just be a chance to inject humor and warmth into the game. Either way, Raftery does it in a way nobody else in the sport can.
"Certainly it begins with Bill Raftery and then everyone just feeds off of it," Wolfson says. "I listen, I have my ear piece in during the game, and I hear it, and I chuckle also. And I love how hearing Nantz responds, and I make a comment, and then join in on it too, which has definitely come out more over the years."
Nantz agrees.
"When you have that foundation," Nantz says, "that the bedrock of it is built on a friendship, that's many years in the making. When you get on the air, and it doesn't matter if you're calling a championship game, one game or a four game day, it is so freeing to just play off of someone that you know so well. I feel like Raftery allows me — and I know Grant feels the same way — I feel completely comfortable going down a path of silliness or just an amplifying follow-up remark to something Raft said. I love having Raft as a friend, still in my life, still doing the things we were doing all these decades ago."