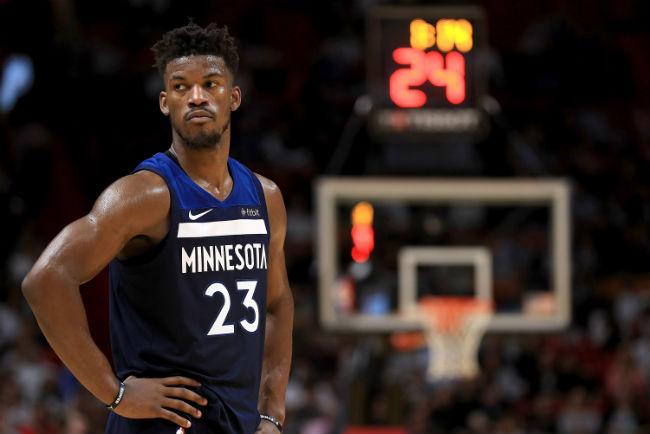 Fans of the Minnesota Timberwolves held their collective breaths on Feb. 23, 2018, as Jimmy Butler went down with a knee injury that required teammates to carry him off the floor. In the coming days, it came out that Butler had suffered a meniscal tear and needed to go under the knife.
But despite the fact that Butler needed surgery, there was optimism that he would only need 4-6 weeks to get back on the floor. Fast forward to Thursday night — five weeks and six days since Butler got hurt — and the Timberwolves' superstar is slated to come back.
Prior to tip off for Minnesota's game against Denver, it was announced that Butler, along with Jeff Teague and Derrick Rose, is active.

It was eventually announced that Butler would not be among the starters for his return, but getting him back is a huge boost for a Minnesota team that is fighting for a playoff spot. The Timberwolves currently sit in the seven seed, but are one game up on the team in ninth, which just happens to be the Nuggets.
Watching players come back so soon after undergoing surgery is the type of thing that gives pause, and it'll be interesting to see what Butler is physically capable of doing during the final four games of the regular season. If he is healthy, though, and the Timberwolves are able to navigate their final stretch (@ Denver/@ Lakers/Memphis/Denver) make it to the postseason, Minnesota would be an absolutely terrifying matchup for a team in the top half of the conference.