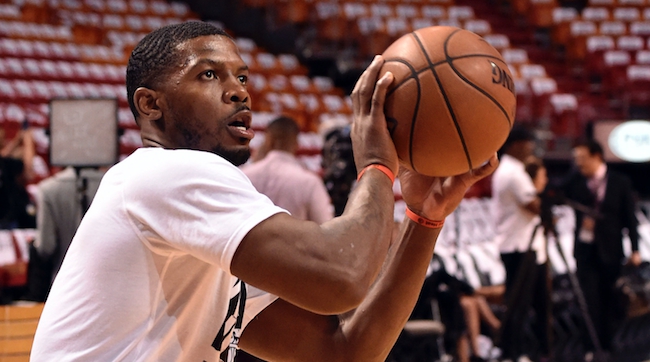 It's OK if you forget the Utah Jazz are still in the NBA from time to time. Salt Lake City represents one of the league's more remote outposts, and the franchise hasn't done much since the glory days of John Stockton and Karl Malone bludgeoning opponents to death with one pick-and-roll after another in the '90s.
But Utah screamed back into the NBA consciousness late Friday night when it plucked veteran Joe Johnson out of South Beach and handed him a two-year deal to presumably finish his career in Salt Lake.
That's right, the Jazz landed a (semi) major free agent. Granted, if this was 2008 or even 2012, the agreement would be much bigger news. But in Johnson, the Jazz will be able to provide an experienced, veteran voice to help guide their truckload of young talent toward the playoffs, where they've only been once in the past six seasons. Combined with last week's acquisition of George Hill in a three-team deal with Indiana and Atlanta, the Jazz have some hardened, postseason experience to add to burgeoning stars like Gordon Hayward, Derrick Favors and Rudy Gobert.
Johnson, who was bought out by the Nets last season and chose to play it out with the Heat instead of LeBron and the Cavs (hmmm, wonder how he feels about that decision now…), averaged just 12.2 points per game in 2015-2016, his lowest output in 13 years. But he still shot 38 percent from three-point land and remains capable of getting hot from the perimeter while also still being a completely legit option to take the big/last shot in a tight game.
The Jazz finished 40-42 last year and missed the playoffs by just one game in the hyper-competitive Western Conference. They have to feel good about their latest get taking them one step further.
(via ESPN)