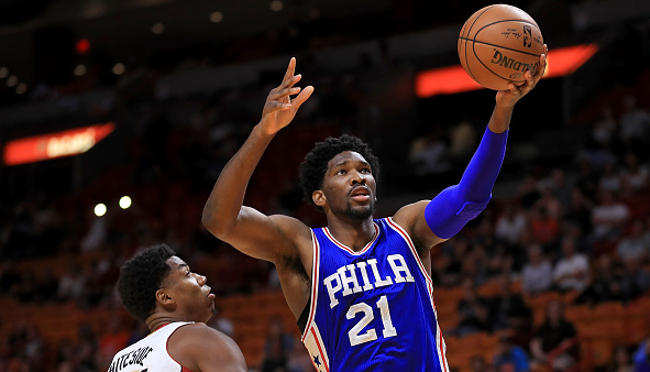 Joel Embiid's NBA debut was a long time in the making. Despite suffering a foot injury that would eventually cause him to miss the first two seasons of his career, then-Sixers GM Sam Hinkie drafted him anyway and hedged his bets on the talented 7-footer evolving into a star.
Embiid was a major component of the embattled Hinke's controversial philosophy of tanking and acquiring as many assets as possible with an eye ever toward the future. It was a strategy that became derisively known as "The Process" and ultimately ended with his ouster from the organization.
But as Embiid continues to display that enormous potential in the early stages of his career, he sees himself as the culmination of that process and has fully embraced it. He previously announced that he wants his nickname to be "The Process" and has even gone so far as to convince the arena announcers to refer to him as such during player introductions.
He didn't stop there, however. Embiid now apparently has that infamous phrase, "Trust the Process," printed on the tongue of his shoes as a daily reminder.
So far, Embiid is the runaway favorite for Rookie of the Year as he's averaging 18.2 points, 7.6 rebounds, and 2.5 blocks per game in just over 23 minutes of action.