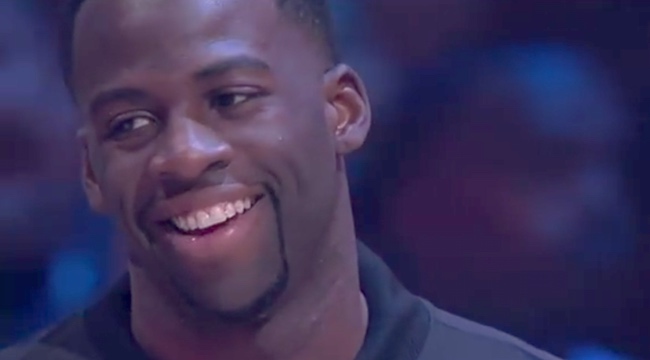 Draymond Green reaction faces stole the show at the NBA All-Star Game in Los Angeles in February, as he was captured by TNT cameras wondering what exactly Fergie was trying to accomplish when she sang at Staples Center before the game.
Green wasn't alone in reacting to the anthem. There were laughs and lots of tittering, but he happened to be the one to break on national television. The reaction instantly went viral, and it quickly became the story of the weekend.
Green didn't say anything bad about it when asked about the performance after the fact. But the faces, man. Here, for example, is another face Draymond made when asked about Fergie's anthem.
Honestly is definitely something Green brings to the table at every opportunity. Though he, again, didn't say anything bad about Fergie's performance. Again, let's watch the tape.

Charles Barkley, in fact, was the person who said the most about the incident. And Jimmy Kimmel is seen chuckling, too! But Fergie said she tried her best during the anthem. And her ex-husband, Josh Duhamel, was pretty upset by Green's reaction to Fergie's anthem and wanted Green to apologize to her.
We're probably well past the point where Green actually gives an apology here, but it is a nice reason to revisit one of the most bizarre anthems ever. It seems strange to think this is even something that happened this year. Once again, 2018 is the longest year on record.