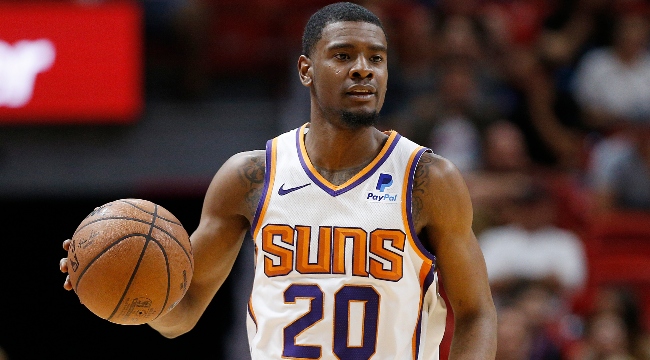 It's been a wild season in Phoenix. The Suns have been a slog this year, looking for little bits of optimism amid another lottery-bound offseason. There are some reasons for hope in the long-term, like the pairing of Devin Booker and Deandre Ayton, but on the whole, it might be best for everyone if this season would just end.
Here is a story that reinforces that things have been really, really weird lately. Back on Feb. 27 — the same day as a report that the NBA is concerned with the situation in Phoenix — second-year wing Josh Jackson was slated to appear at an event at a local grocery store, sponsored by Dos Equis. It sounds like a nice enough time, and Suns fans apparently turned out to meet the No. 4 overall pick in the 2017 NBA Draft.
The issue: Jackson no-showed the event, and according to For The Win, was celebrating a friend's birthday at Fogo de Chão 10 miles away. There is no word on whether Jackson did this intentionally or just forgot to go, although I suppose you can make the case pretty easily that posting on Instagram that he was somewhere else is a sign that it was an honest mistake. Or you can make the case that it would be sending a message to someone that he had no intention of attending said event. Anyway, remember this, because we'll get back to it momentarily.

In his stead, Suns interim general manager James Jones showed up and tried to apologize to fans, offering them a number of incentives for turning out and not getting to meet the team's young wing.
It's a nice way to make up for the mishap, but the story didn't end there. A day later, it was announced that the team had fined Jackson for missing the event, with a report indicating it was much as $20,000.
Now, with the full understanding that I have zero idea how teams dole out fines for various player infractions, that sounds like a substantial fine for the incident. It's not a boatload compared to what Jackson makes — a little more than $6 million this season — but it's more on principle. As it turns out, Jackson wasn't especially fond of the fact that word of the fine leaked, which he made clear to the media.
To loop back around to the "he was at dinner" thing, Jackson went on to say that the reason he missed wasn't because he was at Fogo de Chão, but instead, because he had to tend to something with his mother and that by the time it was resolved, he was told not to attend.
Naturally, this being the case would change the context of the saga, and it would make a public fine of 20 grand kind of wild. At the end of the day, though, the entirety of the events are as weird as they are confusing, which makes them a pretty good summation of the 2018-19 Phoenix Suns.