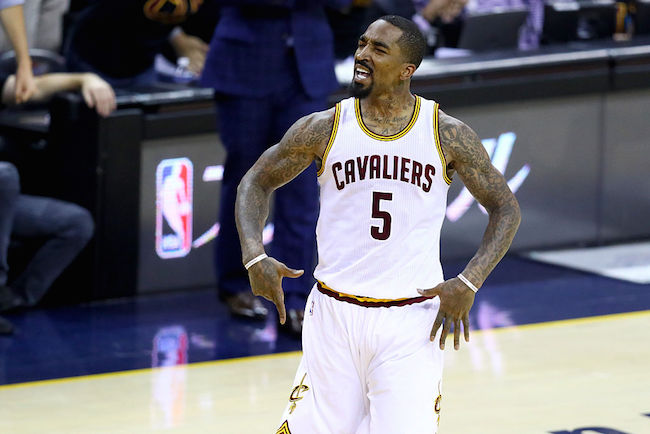 After a celebratory offseason of shirtless forays through Cleveland, J.R. Smith remains unsigned. The Cavaliers have started training camp without Smith, and if they want to defend their title, they will need the lovable sharp-shooting wing. With the salary cap spike this summer, starting-caliber free agents jackknifed into a pool of money all offseason. At 31, this will most likely be Smith's last big deal, and he doesn't intend on missing this cash grab. On media day, Cavs General Manager David Griffin addressed the contract negations — by way of Fear The Sword — and their current standing.
"As we have stated and coach has previously stated, we think very highly of J.R. and we love him as a member of our team, as a member of our locker room," Griffin said. "He was essential to our success and for that reason we have made an incredibly competitive and aggressive offer in re-signing him."
An aggressive offer could mean a litany of things. If anyone knows the meaning of aggressive, it's Earl Smith III. The ballpark figure for J.R. is reportedly in the $15 million range. That seems to be the going rate for a starting two-guard on a title contender in the current economic climate. Cleveland could be pinching pennies knowing that J.R. wants to be in Cleveland and the market has dried up. They've given out max and near-max deals to four players on their roster, which means shaving off a couple million on Smith's deal could save them boats of money in luxury taxes.
That number could range anywhere from 12 to 14 million, but J.R. is LeBron's guy. Tristan Thompson, who shares an agent with LeBron, went through the same ordeal last offseason and eventually got his money. The King has quite the influence on the front office, especially after he delivered them to the Promised Land. J.R. should be getting his money soon enough and hoisting jumpers in no time. When you have LeBron on your team, you go into the luxury tax as much as you need to keep the cast around him competitive.
(Via Fear The Sword)