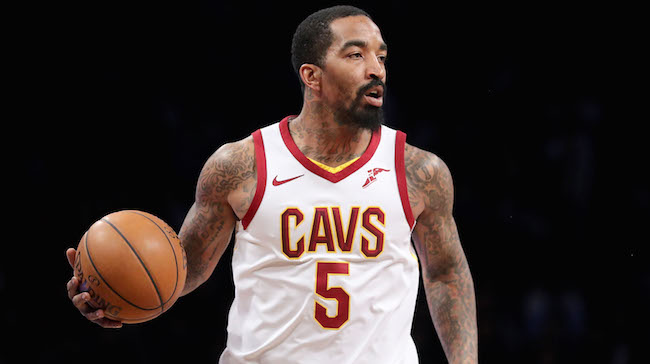 The Cavs bounced back after looking flat in a 98-79 loss to the Heat in Miami on Tuesday with a dominant 118-105 win over the Hornets in Charlotte on Wednesday. It's not often that a team looks fresher and more engaged on the second night of a back-to-back, but that was certainly the case for Cleveland.
Part of that is the lack of distractions in Charlotte compared to Miami, where the Cavs had plenty to do the night before they faced the Heat. Beyond just getting away from South Beach, the Cavs can attribute some of their play to a pregame visit with a very good dog.
The Cavaliers invited the UNC baseball team, who was in Charlotte after playing the 49ers the night before, to the team's brunch so that the Cavs could spend some time with UNC's team service dog, Remington. Remington is a very good golden retriever who a few players in particular made a very strong connection with, none more so than J.R. Smith.

Smith was coming off a pair of dismal performances to start Cleveland's brief road trip, going 3-for-9 from the field for six points in the two combined efforts, but exploded for 19 points on 8-of-9 shooting in Charlotte after spending some time with Remington. Smith doesn't think that was a coincidence, as he told ESPN's Dave McMenamin after the game that the visit with the dog came "right on time" for him, even if he didn't want to explain it much more.
"It was right on time, especially for me," Smith said. "I'm an emotional person. I live in my head. I don't really express a lot of things. But let's just say it was right on time."
This year we've heard more and more athletes speak up about the importance of mental health and even for those that may not identify with having something they'd deem a mental health disorder or problem, taking the time for themselves to get right mentally as much as physically is important. For J.R. Smith, his visit with Remington seemed to be what he needed to check that box and hopefully it's something the Cavs and others can continue to make strides in providing for their players on a regular basis.