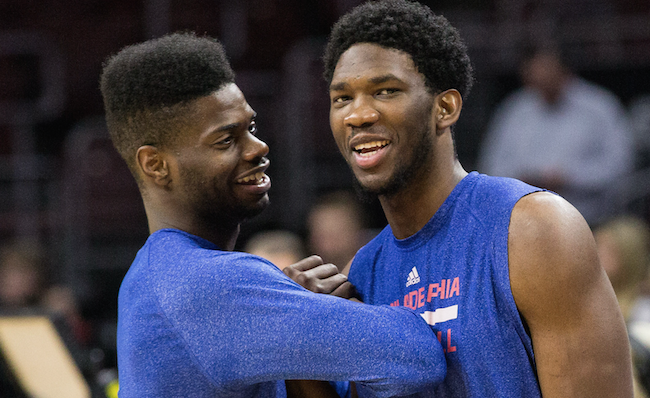 Two years after tearing down a middle class team to build a real contender from scratch, the Philadelphia 76ers aren't much closer to accomplishing that goal. They actually won 18 games in 2014-2015 compared to 19 games one year prior, a reality that casts further doubt on the belief of some league analysts that the Sixers' path to legitimacy remains a prudent one.
Sam Hinkie swapped reigning Rookie of the Year Michael Carter Williams for a future first-round pick at the trade deadline. Joel Embiid will miss his second consecutive season after yet another injury setback. Philly took Jahlil Okafor with the third choice in last month's draft, a player who further crowds the team's already stocked frontcourt of the future and suggests more wheeling and dealing to come. And apart from a deal with the desperate Sacramento Kings that netted them sophomore sharpshooter Nik Stauskas and more future draft considerations, the team punted on free agency yet again.
Which all begs a question: Just when will so much construction amount to real progress in the win-loss column? Hinkie and company have avoided a definitive answer since this process began, instead opting for the vague response of a tangible payoff over multiple seasons.
If Julius Erving is to be believed, though, the Sixers may have a more concrete timeframe for contention than they've let on all along. During an appearance on Sirius XM NBA Radio, the Hall-of-Famer said he was told by owner Josh Harris that Philadelphia had a seven-year plan to compete for a championship.
When they acquired the team in 2012, the talk was about seven years. Seven years. So I think it's still on that same timeline… To be good, to be formidable, to be a contender. So that's probably '18-'19.
Don't worry, Philly fans. You're only four or five years away from contention!
Considering just how barren the Sixers' talent base was two seasons ago and even remains, their original timetable makes sense – and is even supported by recent historical precedent. The Golden State Warriors hoisted the Larry O'Brien Trophy in Steph Curry's sixth season. It took five years from the Oklahoma City Thunder drafting Kevin Durant for the team's wholly surprising run to the NBA Finals. Even Michael Jordan didn't reach the Conference Finals until his sixth year in the NBA.
Building a real winner takes time. And while the first two years following Philadelphia's tear-down haven't exactly gone as hoped, that hardly means the ensuing four or five won't. Only time will tell if Hinkie's master plan is a good one, and there's still an ample amount of it remaining to decide whether or not that's the case.
[Via Sirius XM NBA Radio]