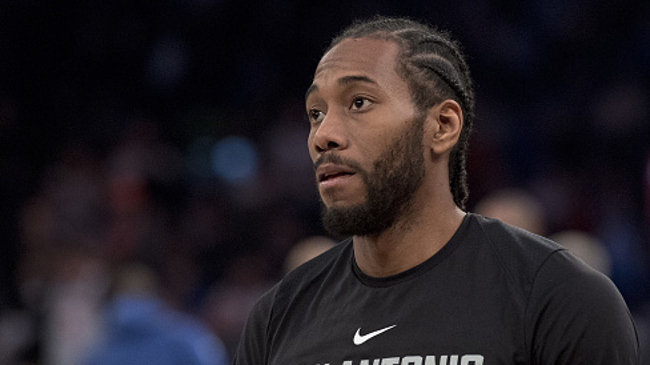 Kawhi Leonard is heading to the Toronto Raptors. After weeks of rumors and speculation regarding the future of the Spurs star, the Raptors have reportedly swooped in and made an offer that San Antonio could not refuse, stealing him out from under the nose of teams like the Los Angeles Lakers, Los Angeles Clippers, and Philadelphia 76ers.
In exchange for arguably the best two-way player in the world, Chris Haynes and Adrian Wojnarowski of ESPN reported that Toronto will ship All-Star guard DeMar DeRozan as part of a trade package to San Antonio. Early on Wednesday morning, Wojnarowski tweeted that the sides agreed to a deal, and that the only Raptors player who knows they're on the move is DeRozan.

Additionally, the two players at the center of this deal are said to not be excited with this turn of events, per ESPN.
Leonard and DeRozan are both aware that an agreement could be imminent, and neither is expressing enthusiasm for the deal, league sources said.

…

In a story posted on his Instagram page on Wednesday morning, DeRozan wrote, "Be told one thing & the outcome another. Can't trust em. Ain't no loyalty in this game. Sell you out quick for a little bit of nothing… Soon you'll understand… Don't disturb…"

For the Spurs, which reports indicated were taking their time in trying to find the best possible deal, this is ostensibly their way of getting a star back in exchange for Leonard. DeRozan is under contract for at least the next two seasons, with a player option for the 2020-21 campaign. He's slated to make about $27.7 million each year.
For the Raptors, this is a major risk, both because of the uncertainty surrounding Leonard's health and his purported desire to end up in Los Angeles next summer once he hits unrestricted free agency. But with a wide open Eastern Conference, Toronto is banking on the fact that it believes it can make the Finals this year if Leonard is on the floor as a way to convince him to stay up north long-term.
We'll see what the future holds, both in terms of other players on the move in this deal and in terms of how DeRozan and Leonard adjust to their new surroundings. But for now, one of the NBA's most fascinating sagas — Leonard and his attempt to get out of San Antonio — has seemingly come to a close.