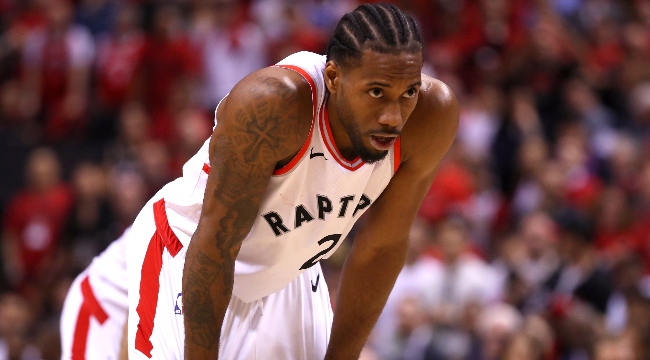 The Toronto Raptors are on the precipice of their first NBA championship in franchise history.
After splitting the first two games at home in their Finals matchup with the Warriors, the Raptors went to Oakland and won both games in Oracle Arena to take a 3-1 lead back to Toronto. While Golden State was dealing with injury issues, the Raptors were simply the far more impressive team, as they continue to smother the Warriors offense and keep them from going on crazy third quarter runs like they did in Game 2.
After their Game 2 loss, in which Golden State opened the third quarter on an 18-0 run, Nick Nurse told reporters the mindset simply had to be go and get one back in Oakland. That seems like the reasonable approach and a way to keep your team level-headed following a loss, but not everyone appreciated the message.

When Nurse told his team that in the locker room, Kawhi Leonard, known to the outside world as the silent superstar, decided to speak up, forcefully shutting down the idea that the goal should be to get just one win in the two games at Oracle.
"Well, I give most of that credit to Kawhi because I said it in the locker room trying to kind of not make it feel so bad that we just lost a home game in the Finals," Nurse told reporters before Game 5. "I was like, all we got to do is go get one, that's maybe not as insurmountable challenge to go out there and get one. And Kawhi said, '[Expletive] that, let's go get them both.'"
It's a pretty fantastic quote from Kawhi and it seems he and the team took it to heart as they went across the continent to pick up a pair of wins and put a stranglehold on the series. Finding out that Kawhi would be this forceful in saying anything is fairly stunning to some, but as we've slowly learned over the course of this year, the Kawhi we see publicly isn't fully the guy the Raptors see in the locker room.
On Monday, they can close out the deal at home, but they'll need Leonard at his best and a full team effort with the Warriors finally getting Kevin Durant back.