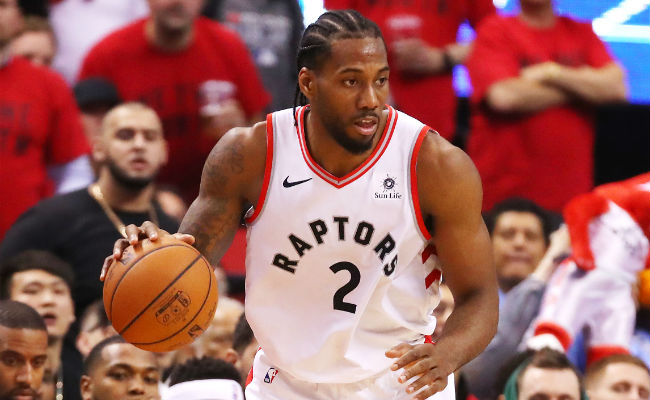 Kawhi Leonard and the Raptors celebrated their championship on Monday with a massive parade in Toronto that featured some incredible images as well as an unfortunate scary scene.
Leonard was the star of the show, recreating his infamous awkward laugh to the delight of his teammates and fans and just generally appearing to have a great time. It's fairly hard not to when riding around on buses with champagne and cigars, being cheered on by adoring fans, but Kawhi's happiness naturally sparked speculation that he would be staying in Toronto long-term.
It's easy to think that now after they won a title and Kyle Lowry even got fans chanting "five more years" at him, but once June 30 rolls around and the free agency moratorium period arrives, Leonard's decision will likely be more difficult than those in Toronto want to admit. ESPN's Adrian Wojnarowski joined Get Up! on Tuesday morning to discuss Leonard's free agency and effectively noted it will be a two team race between the Raptors and Clippers, as L.A.'s "other" team is his primary focus, and the Lakers may not even get a meeting with the star.

"The reality is Kawhi Leonard's focused on Los Angeles, but it's the Clippers, not the Lakers. Number one, they don't have the money to sign him. And two, the idea of him being a third wheel on a team trying to create a superteam, that has not been Kawhi's M.O. The Clippers are poised to be able to lure him from Toronto. This will be a Raptors-Clippers fight down the end. He may take meetings with more teams. It's not even certain he'd even take a meeting with the Lakers right now."
That's not a huge surprise, as it's long been reported Kawhi hasn't been especially fond of the idea of playing alongside LeBron James where, no matter who is actually better on the court, he'd always have the perception as the second option. With Anthony Davis in the mix that's exasperated further, on top of them just not having max money if the deal is done as expected on July 6. The Clippers have been the favorites for Leonard since last year, but the Raptors have more than made up ground with their title run and now it seems we're going to be waiting on Kawhi to pick between those two squads.