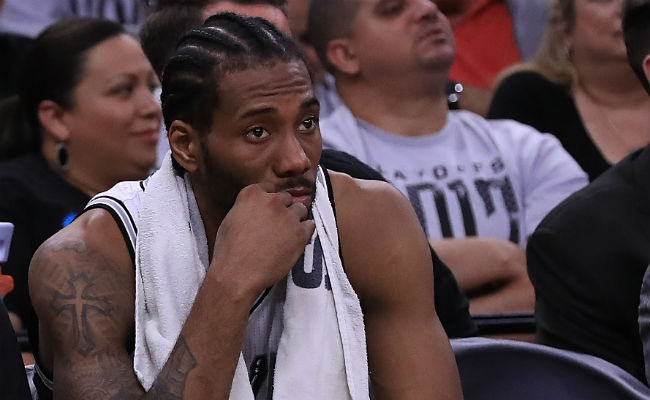 The Spurs have struggled mightily in recent weeks, as the accumulation of injuries and the reality of having to play without their MVP candidate for most of the season appears to have caught up with them.
San Antonio's loss to Houston on Monday night dropped the Spurs to 10th in the West due to tiebreakers as they sit at 37-30, the same record as the Jazz and Nuggets. The hope for Spurs fans and the organization has been the possibility of a return from Kawhi Leonard in the near future, with the team targeting Thursday night's tilt with the New Orleans Pelicans for his return from his lingering quadriceps injury.
The Spurs clearly need Leonard back as soon as possible to ensure their two decades long playoff streak continues, but it appears as though he won't be back as soon as originally hoped. The Vertical's Shams Charania delivered the bad news on Twitter, noting that Leonard was still evaluating his injury ahead of a hopeful return, but that he was going to remain out of Thursday's contest against the Pelicans.

San Antonio is in the middle of a hellacious stretch of games to close the season that has already seen three straight losses to the Warriors, Thunder and Rockets. After a reprieve against Orlando on Tuesday, they have the Pelicans on Thursday and then their final 13 games include 11 games against current playoff teams. One would expect San Antonio to need Leonard present and active for a vast majority of those games if they are to reach the postseason, but for now the waiting game continues.