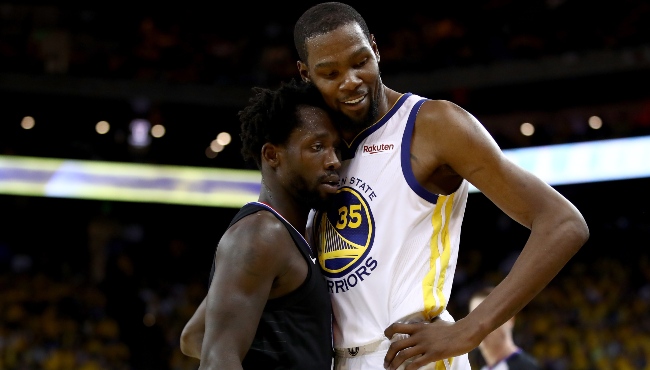 Kevin Durant remains absent from the basketball court as he continues to work back from the strained right calf he suffered in the second round of the playoffs, but his free agency continues to dominate the headlines. As the Golden State Warriors await their opponent in what will be their fifth straight NBA Finals appearance, the perception that Durant will bolt in free agency remains strong. Just where, exactly, Durant will play next remains something of a mystery.
Durant has been linked to the New York Knicks for nearly the duration of the 2018-2019 season, but the Los Angeles Clippers are quietly gaining steam as a legitimate suitor for Durant's services as the offseason approaches. First, there was a blurb in New York Times NBA writer Marc Stein's weekly newsletter stating that the Clips had emerged as an "equally dangerous threat" to the Knicks in competition to sign Durant, and now a former teammate of Durant's is only adding fuel to that fire.
Kendrick Perkins, speaking to Kristine Leahy as a guest on her FS1 show Fair Game, said the possibility of Durant heading to L.A. is very, very real.

"Don't be surprised if KD signs with the Clippers," Perkins said. "Everybody is screaming New York but do not be surprised if KD signs and plays for Doc. I don't even have to recruit him. He likes the organization. He likes Doc Rivers."
Durant also has the benefit of seeing the talent the Clippers possess up close after their first-round playoff battle. The Clippers took two games from the Warriors, both in Oakland, and their young core featuring guys like Shae Gilgeous-Alexander, Montrez Harrell and Landry Shamet, combined with respected vets like Patrick Beverly and Lou Williams, is certainly an attractive group. The Clippers also have room for two max slots, and will chase Kawhi Leonard this summer, too.
If New York is the front-runner, the Clippers seem to be closing the gap in the final lap.