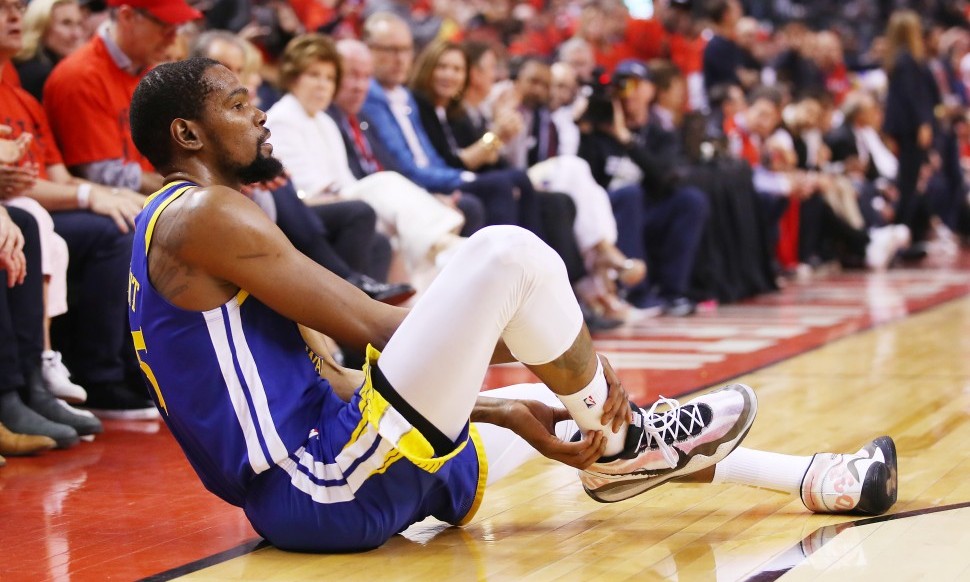 The NBA Finals are headed back to Oakland for a Game 6 after the Warriors gutted out a 106-105 win over the Raptors in Toronto on Monday night, but thoughts after the game were with Kevin Durant who left early in the second quarter with an Achilles injury in the same right leg that he'd been dealing with a calf strain.
Initially, Durant's injury was reported as a "lower right leg injury" and the hope was that it was just an aggravation of the calf strain, but Warriors president Bob Myers announced after the game that it was indeed an Achilles injury.
Durant and the Warriors won't know more until the MRI on Tuesday, but Myers said it is a different injury than the calf strain. He was very emotional in releasing the statement and said he doesn't believe there's any blame to be put on anyone for Durant's injury, but if there must be, to put it on him as president of basketball.

"Kevin, it's an Achilles injury," Myers said. "I don't know the extent of it. He'll have a MRI tomorrow. Prior to coming back he went through four weeks with a medical team, and it was thorough and it was experts and multiple MRIs and multiple doctors, and we felt good about the process.
"He was cleared to play tonight; that was a collaborative decision. I don't believe there's anybody to blame, but I understand in this world and if you have to, you can blame me. I run our basketball operations department. And to tell you something about Kevin Durant, Kevin Durant loves to play basketball, and the people that questioned whether he wanted to get back to this team were wrong.
"And I'm not here to — he's one of the most misunderstood people. He's a good teammate, he's a good person, it's not fair. I'm lucky to know him. I don't know — I don't have all the information on what really the extent of what it all means until we get a MRI, but the people that worked with him and cleared him are good people, they're good people."
It's gutting news that Durant's injury was an Achilles injury, as everyone around the league is far too familiar with how damaging that can be for one's career. For him to come back in a critical Game 5 to try and help the Warriors stay in the Finals, only to suffer a worse injury is terrible as he is set to be one of the most coveted free agents this summer.
The MRI on Tuesday will determine the extent of the injury, but for now we do know it's an Achilles and that Durant faces a long road ahead of rehab and recovery. Warriors players are hoping it's not a complete rupture of the tendon.