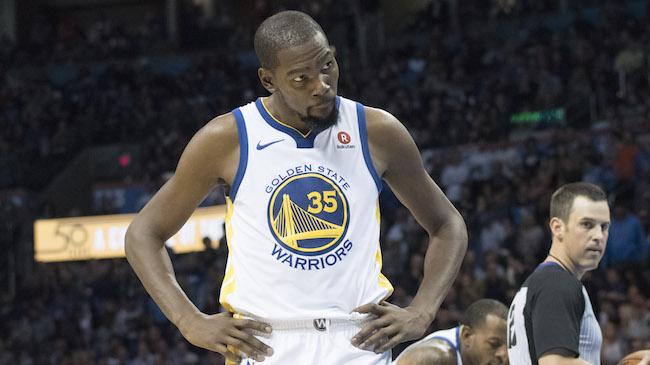 Kevin Durant was ejected once in his first 10 seasons in the NBA. He has been ejected three times in 20 games this season.
Durant isn't alone as a star player to get an early dismissal to the showers this season, as LeBron James and Anthony Davis have each earned their first career ejections so far this season. However, Durant has found himself in more chippy situations than usual, which seems like a bit of a departure from the old KD.
Whatever the reason (possibly no longer having as much of an outlet for his frustrations on social media having shuttered his burner accounts) Durant is running a little hot on the court and it's gotten him tossed from multiple games this season. His most recent ejection came on Monday night against the Pelicans, when he and DeMarcus Cousins got into it.

The two had to be separated on the court (and reportedly again in the tunnel) which led to many pointing out that Durant would want no part of Cousins in an actual fight. Durant would agree with you, telling reporters he's "not going to fight" for a number of reasons, and noting that nobody in the league is going to throw punches, via Mark Medina of the Mercury News.
"I cant get involved with that type of stuff. I have to stay locked in and stay focused on the game," Durant said. "I'm not going to fight nobody. I don't want to get injured. I don't want to get suspended. I love to play. I love making money for my family. I'm not trying to get suspended and get in no fights with nobody. Nobody on the floor is going to fight. Nobody in the NBA is going to throw no punches. We're just talking."
It's not all that dissimilar from Lonzo Ball's quote as to why he avoided a scuffle earlier this season, but in the exact opposite situation. Durant feels comfortable stepping up to someone like Cousins and jawing because he "knows" no one is going to throw hands. On the whole, Durant's feelings are based on facts.
NBA "fights" have long been the punchline of jokes about guys begging teammates to hold them back and guys just generally pushing and shoving and nothing of consequence really happening. That's all a very good thing, because on the rare occasion a punch is thrown and landed, it tends to end very, very poorly. Just ask Nikola Mirotic what happens when an NBA player lands a clean punch.
Durant might be right to be confident that he can step up to someone and not be risking a real fight, but he should know there is the very slim chance real retaliation comes and if that happens he might find himself in some trouble.