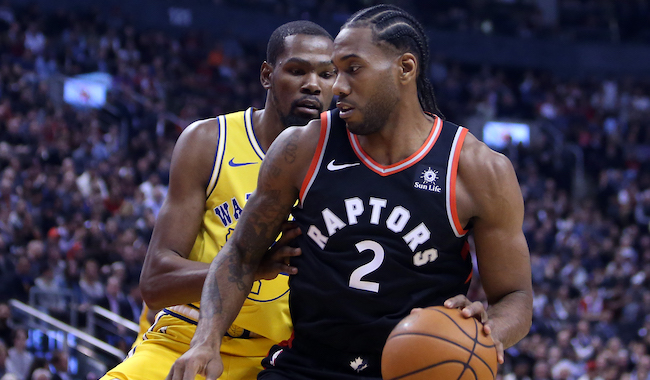 The NBA's free agency period, which opens on Sunday evening at 6 p.m. EST, is shaping up to be completely insane. With 40 percent of the league hitting the open market, the possibility for the balance of power in the NBA to shift over the course of a few days exists in a way that we haven't seen in years.
Part of this is because two guys who have a claim for being the best player on earth, Kevin Durant and Kawhi Leonard, have the chance to change teams. While some of the same squads are viewed as potential landing spots for both, there's been no indication that the pair would go to the same team.
That was until Saturday morning, when a bombshell report from ESPN indicated that the pair have reportedly discussed suiting up for the same franchise once Durant is recovered from the achilles injury that is expected to keep him out for all of the 2019-20 campaign.

The Clippers and Knicks are two of the three teams that are slated to get sit downs with both and could have the money on hand to give them both max contracts. There is a third squad that has this sort of money, the Brooklyn Nets, but due to the fact that Leonard is not scheduled to meet with them and their other priorities in free agency, that option is off the table.
Per ESPN:
Leonard and Durant are each planning discussions and meetings with several teams, but only Clippers and Knicks are in alignment with salary cap space and common interest to sign both players. Brooklyn could conceivably house both, but a more likely scenario would be Durant and point guard Kyrie Irving signing as free agents with the Nets. Brooklyn is firmly Irving's focus in free agency, league sources said.
All of this comes with the caveat that nothing is finalized until names are signed on dotted lines, and we have no idea how Durant will look once he is recovered from his ruptured achilles that he suffered in the NBA Finals, but a pairing of these two stars would be nothing short of monumental. They are legitimately two of the best players in the world, the only guys who have been crowned NBA Finals MVP over the last three seasons.
While his might end up being more of a fun "What If?" to play out in NBA 2K when all is said and done, the fact that this possibility is apparently on the table is great news for two teams that want to make the leap to championship contenders this summer.