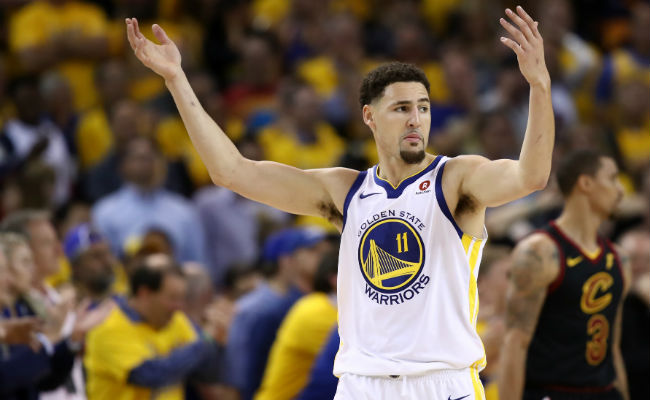 Klay Thompson said he was going to play in Game 2, and it seems like the extra day off between games was a productive one for the Warriors sharpshooter.
Thompson was injured in the first half on an awkward tangle-up with J.R. Smith, and he was diagnosed with a high ankle sprain and "significant bruising." He did, however, return to the floor and make some big shots down the stretch to help the Warriors pull out the overtime win.
Thompson told reporters on Saturday that he intended to take the floor for Golden State in Game 2, and he was, indeed, in the lineup for the Dubs on Sunday night. Yahoo's Shams Charania reported before the game that he would play despite the injury.
https://twitter.com/ShamsCharania/status/1003412056136081408
Thompson played a lot on the injury in Game 1 and appeared to be fine, but it's news nonetheless. Thompson said he likely would not have returned to the game if he were playing in the regular season.
And it's a big boost for a Warriors team that came harrowingly close to losing Game 1. Without a J.R. Smith brain fart and some stunning play from an injured Thompson, the series would look very different. But it's clear that the All-Star worked hard to rehab the injury on the two days off and feels good enough about it to take the floor and make a difference in the series moving forward.