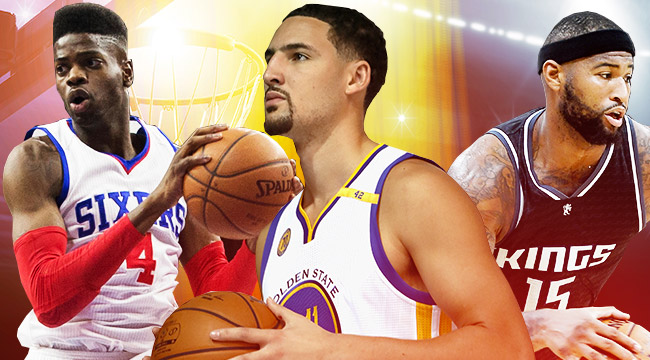 The 2016-17 NBA trade deadline is 3 p.m. ET on Thursday, Feb. 23. Obviously, that's a long time from now, but in the NBA media, time is an asset and luxury, because the more time we have, the more time we can make up rumors about DeMarcus Cousins being shipped out of Sacramento. And this season, more than ever, there will be Boogie rumors galore (and headlines like "Boogie Mights" or "Kissing Cousins Goodbye" or "Time to flick the Boogie").
This season's rumor mill is already running at full speed with Cousins trades and some other "reports" that make very little sense, and even some that are hilariously fake. Normally, we wouldn't need to point out the fake rumors, but because of some truly crafty SEO work by garbage websites, they end up spreading like a virus unleashed on the unsuspecting world by a Bond villain. But, amazingly, the biggest rumor of this young season comes from the White Mamba, Brian Scalabrine.
Finger-quotes report: Brian Scalabrine has Klay Thompson heading to the Boston Celtics
[protected-iframe id="ba9c443c424897b511c9be80dedd9f7c-60970621-76566046″ info="http://vplayer.nbcsports.com/p/BxmELC/newengland_embed/select/media/m0QqnDpMOR4W?parentUrl=" width="650″ height="390″ frameborder="0″ allowfullscreen=""]
Brian Scalabrine, a Celtics analyst for CSNNE, recently told SiriusXM's NBA Radio what he "heard" about Golden State Warriors shooting guard Klay Thompson:
I heard Klay Thompson might be available…
And no one will even bother listening to the words that come next, like "That can't be true" or "I don't know why they do it," because Scalabrine also claims he "heard" that his Celtics are in on Thompson and that's enough to start a five-alarm trade machine fire. The Warriors, he says, need rim protection, and it makes sense because, as he explains in the above CSN video, they're not doing so well on defense, despite being 8-2. Scalabrine claims to have some actual sources and therefore knows the supposed deal on the table:
Celtics get: Klay Thompson
Warriors get: Jae Crowder, Avery Bradley, and the Brooklyn Nets' first round pick
This doesn't do anything to address rim protection, obviously, but Scalabrine then assumes Golden State would flip the draft pick for Nerlens Noel, because he is also supposedly on the move. That's a lot of work for the Warriors, who, again, are 8-2, but forget all of that.
Scalabrine forgot to mention this important detail:
To recap: Scalabrine has some sources, just not sources who say this deal is a thing that might actually happen. In fact, one might wonder where Scalabrine originally read this rumor…
We're all going to feel like jerks if the Celtics pull this off and/or the Supermoon kills us all.
Bullsh*t Alert: Nerlens Noel will be traded to Boston or Toronto or Cleveland or…
Imagine if you wanted to read real, not-at-all-fake news about Philadelphia 76ers center Nerlens Noel. You'd have to scroll down to the third set of headlines. I don't get out of bed for anything beneath the second set. If anything, we need to tip our caps to the SEO wizards at ChinaTopix and Gospel Herald, and especially Headline & Global News. Second only to The Inquisitr in the creation of fake NBA rumors, Headline & Global News has real-looking trade scenarios for every player whose name has even been whispered by real NBA reporters this season.
If you see that site's name, ignore it. If you see a trade rumor that sounds ridiculous, take two seconds to search Ask Jeeves, and it'll probably originate at The Inquisitr or Headline & Global News. I wouldn't even bother addressing this nonsense, but so many people spread these rumors for clicks and retweets. Shame on you, morons.
In real Noel trade rumors, the most we know came from ESPN's Marc Stein 10 days ago:
The Raptors are among the teams that have expressed interest in Philadelphia's very available Nerlens Noel, but sources say Toronto's initial preference in the wake of losing Jared Sullinger (foot) to injury is to give more minutes to various younger players (such as rookies Pascal Siakam and Jakob Poeltl) so they get first crack at filling the void.
Yes, Noel is available, but the Sixers probably aren't in a rush to move him since he's very valuable. Like, probably more than the Nets' first round pick.
Actual, real report: DeMarcus Cousins deal feels "real and imminent"
The most rumors, possibly real and certainly fake, revolve around Cousins. Last week, the word on the street was the Kings will "never get what they want in return," because they believe he is "worth more than he actually is." That came from an unnamed "East GM," via Sam Amico. This week, Sporting News has this quote from an unnamed "Western Conference general manager":
"I'd say they have three months, tops. Probably more like a month, or month-and-a-half, because the closer they get to the (February trade) deadline, the less they're going to get back. If you're trying to trade him the week of the deadline, it's going to be tougher."
That's still not much, but it's better than the website that claims the Supermoon will kill us all.
Perhaps the best update comes from Shaquille O'Neal, a minority owner of the Kings. Recently, on Inside the NBA, he called Cousins "hot-headed" and questioned his leadership qualities. In fact, the Big Inside Sourcer admitted that he heard the Kings will soon "go in a different direction" if Cousins can't become the leader his team needs.
Can we just send him to Washington to play with John Wall already? Unless Scalabrine has other plans for him, of course. We're not trying to interfere with the White Mamba's trade magic.