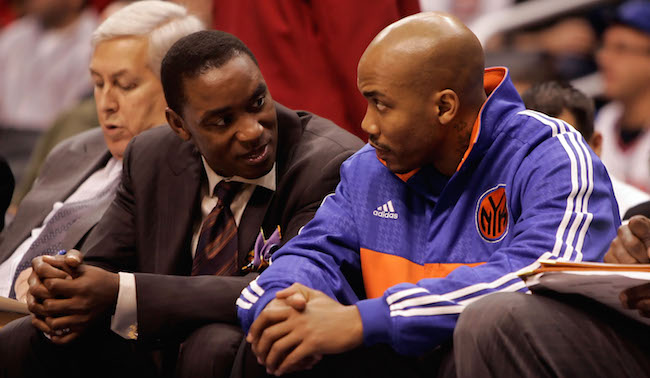 The Knicks need a new team president after Phil Jackson was fired on Wednesday morning, ending his tenure in New York that can only be described as a failure. Jackson was fired, reportedly, due to his wish to buyout Carmelo Anthony, which was his only way to ensure Anthony wouldn't be on the Knicks next season because Jackson had given Anthony a full no-trade clause and couldn't get him to waive it.
So, with the Jackson era over, the Knicks are ready to step into a brighter future. At least, that's the hope of Knicks fans. Raptors president Masai Ujiri has been linked to the job and reports out of Toronto claim that the Knicks are confident that he will take the job. That's not official or a done deal yet, so anything could happen, and the Knicks need to have backup plans for if Ujiri decides to stay in Canada.
There are plenty of options for the Knicks. One would think they would consider former Cavaliers GM David Griffin, who is currently unemployed, but we must remember that these are the Knicks, so you have to think of the worst possible candidate and they are the ones that will at least get consideration.

Who would the worst possible candidate be for president of the Knicks? Well, probably a former team president that left in disgrace. The Knicks couldn't be that dumb, could they?
Oh yes. The man that tanked the franchise from 2003 to 2008 before leaving amid a sexual harassment scandal is, somehow, a "dark horse" candidate for the Knicks job. That would suggest that James Dolan, while not wanting to bring Thomas back as his first choice, has at least toyed with the idea. Thomas has, for the most part, rehabilitated his image as an NBA TV analyst, but those in New York will never forget what he did on and off the court.
Thomas' failures during his tenure as Knicks president were as bad as anything Jackson did. If the Knicks were to bring him back, there might be full on rioting taking place at Madison Square Garden. Hopefully, for the fans' sake, this is simply a rumor with no real truth to it, but since this is the Knicks, anything is possible.