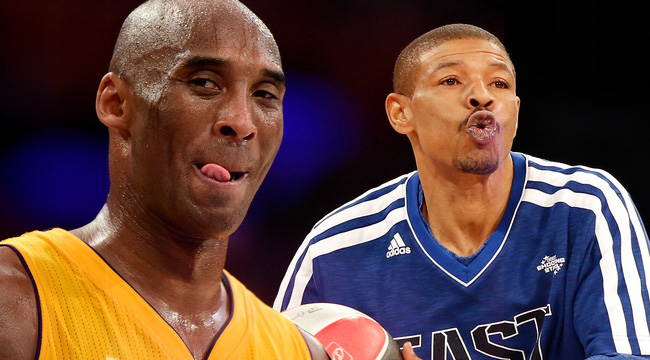 For many sports fans who might not be the biggest movie geeks, the story of Space Jam 2 is both the only movie in pre-production they might actually care about while also serving as a great lesson in being an obsessive film news junkie. Torturous, negative news about it being made? Check. Casting rumors that are mostly wish lists? Check. If it actually gets to production, enjoy your first taste of the distress of a director walking off set and being replaced.
But enough about how Space Jam 2 probably won't get made for years — that hasn't stopped us from starry-eyed imaginings of who would fill the roles of MJ and the Monstars. Former Monstar magic basketball victim Muggsy Bogues has indulged in these fancies before, even if he doesn't think a sequel is the right idea. Now he's been asked once again, and his choice to star is Kobe Bryant. Steph Curry also "has to play a role," according to Bogues.
Even though LeBron has been considered the favorite for years now, Kobe actually would make more sense if filming started in the next few months (it won't). Kobe's retirement would give the sequel a nice parallel structure with the first movie, although no one seems to be dying to bring Kobe back like they were with Jordan's baseball sabbatical. But if they wanted to change things up, maybe a buddy comedy between the "too old for this sh*t" Kobe and the young, cocky Steph? We'd pay to see that.
(Via Charlotte Observer)